Love Is in the Air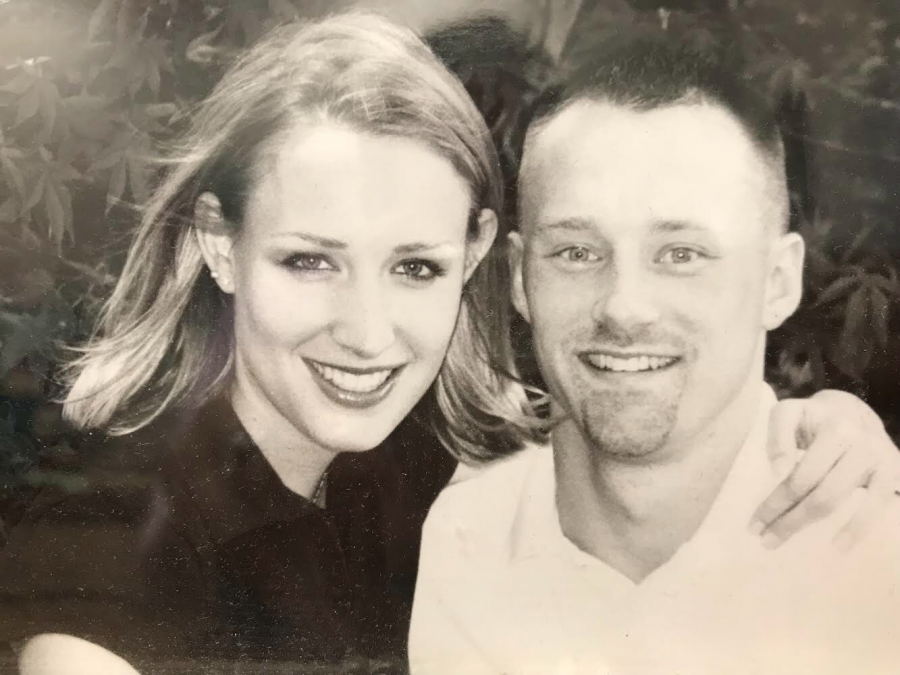 Staff Couple Mark Scott and Johanna Scott- A Romance to Last a Life Time
Math teacher Mark Scott and guidance counselor Johanna Scott met through a set up from two people they knew. Mr. Scott was working at one school and Mrs. Scott was working as a guidance counselor at the rival school. Mr. Scott's principal was married to a teacher at Ms. Scott's school. They were both trying to get the two to meet. Little did they know that this small suggestion would lead to a long time relationship.
Mr. Scott made the first move by emailing Mrs. Scott. "It was very cute," said Mrs. Scott. From there, they arranged to meet at an little Italian place in Woodstock, Virginia.
When the two first saw each other, Mr. Scott said that he was amazed by Mrs. Scott's beauty and said he had a great time.
"We had a great conversation, a fun time and did a lot of laughing," said Mr. Scott.
"I thought he was funny," said Mrs. Scott, "I really didn't plan on staying that long, but we ended up having so much fun that I ended up being late like two hours."
With such a good first date, the pair dated for a little over half a year before they got married on July 10, 2004. They now have two girls and have been married for almost 15 years.
Both agree life with one another has never been better. "It's been great, heavenly," said Mr. Scott.
Because the Scotts are working on Valentine's day, they do not have any plans for the day. However, they plan on going out to dinner the next week.
Couple John Carneckis and Ashley Halbrook- True Love at First Sight
Sophomores John Carneckis and Ashley Halbrook's relationship began with love at first sight. The pair first met in 2017 at the homecoming football game and after hanging out that day, they knew they were the one for each other.
Carneckis made the first move said Halbrook. "He asked for my number at the homecoming game then two weeks later we went on our first date at a different football game."
The couple have made many memories together but Halbrook says her favorite was on her birthday. "My brother took me to see Thor and surprised me by picking John up on the way," said Halbrook. "After the movie, we went to Target and bought board games to play."
Carneckis and Halbrook have been dating for one year and three month and their relationship has only grown. Both believe they are in a good place with one another. "It's been very good," said Carneckis. Halbrook added on saying, "We've had rough patches but it's been good."
The couple plan on going to a sushi place and then rent a movie this Valentine's Day
by Rachel Singleton–News Editor