Just Arson Defies Genre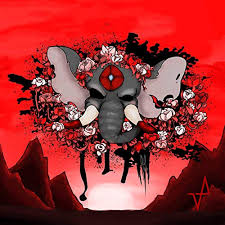 Just Arson, a band comprised of nine students, has piqued the curiosity of students and staff. They officially formed a band in August and have released several singles and an album titled "Indus." Although high school bands are typical, Just Arson has changed the playing field thanks to modern technology. Their music is available on most major streaming services such as Apple Music and Spotify.
"Now in the modern age, you don't have to sign to a record label to put out an album," senior and guitar player Ben Crane said. "We just decided we wanted to do it and we did it and I think that's really cool."
Although their band is fairly new, some members said they have improved. "Our writing has drastically changed since we've begun and I look back and [think], 'that's so bad,'" Crane said. "We've learned how music actually works [and] we're working on learning about music theory and how it all works so we can get better at writing."
They accept there is room for improvement, "We haven't really played together like fully so that's what we've been practicing on, together, live," said senior and manager Max Gannon.
Many of the members met by pure chance and admit they weren't close before the formation of the band. Senior and violin player Lindsey Finks jokingly said, "It was like 'Oh I play an instrument' and then we just started [making music]."
Senior and guitar player Bryce Moore also remembered how senior Johanna Huber joined the band. He recounts after several failed attempts at asking her to sing with him for theatre, he finally succeeded. Moore said, "I was talking to Johanna in front of her mom and her mom was like 'Johanna you have to sing a song with Bryce,' so when we [were] writing a song I was like 'Hey Johanna you know how you have to sing a song with me come sing this song,' so she came to sing with us and we kept asking her to come back and she's now [one of] our singers."
Ever since their first release, they haven't stopped making music and are pursuing new goals. "We [were] really hyped about the release of our first album in January," said senior and manager Fell Gannon. "Right now the focus is to try and start performing live at various venues and gain a bit more recognition but we're also hoping to get another album done by the end of the school year." They hope to continue on after they graduate high school and over the summer where they are planning to go to Costa Rica and shoot a music video.