Diary of Anne Frank Sells Out
The theater department sold out in this school year's winter production "The Diary of Anne Frank," performed Jan. 16 through 20.
"The Diary of Anne Frank" follows the life of Anne Frank, who lived in hiding from the Nazis during the Holocaust with her family, the Franks, and the Van Daan family. The play reads from her diary, a bestselling book.
They performed the play inside a black box theater constructed inside the theater room which could only hold a limit of 53 seats.
Theater teacher Emmet Bales said he also chose to produce the play in a black box theater because he wanted to make the play more intimate. "It's side by side, and you feel like you're in the attic with Anne and her family," said Bales. "There [are] some shows where you have them in the auditorium, and you're 40 feet away from your audience. You lose that intimacy, and this is a show that is really intimate and really personal.
Abb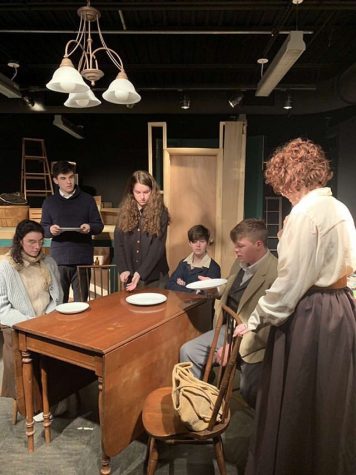 The students producing the play worked hard to maintain Its historical accuracy. They visited the Holocaust Museum as well as a Hanukkah party, and the cast members researched their characters and reread parts of Frank's diary.
According to Bales, this production brought the students closer together. "The kids grew a lot, [and] they really became a family. They really got an appreciation of each other."
Senior Macy Major, who played the main character, Anne Frank, said that playing the part of such an interesting character was amazing. "She's such a historical figure, and everyone knows her. So, it was cool to read more about her and learn more about her," said Major
Ashleigh Champlain, senior and play director, said there were many hardships they had to face with this production. She specified that the hardest challenge was proximity between the actors and the audience because they had to adapt what they would normally do on a big stage onto a smaller stage.
The close quarters were difficult to manage for the actors as well. "You can see the audience, they're right there… You're a little more nervous… You have to constantly be on, you can't relax," said Major.
Despite these struggles, Champlain said she enjoyed directing the play nonetheless. "We sold out, we had to turn people away because we didn't have seats," said Champlain. "It was overwhelming, but I gained a lot from it, so it was very rewarding to direct such a wonderful play."