Jeck's March 17 Annoucement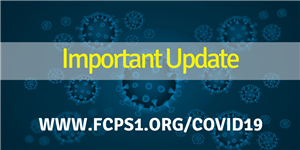 To keep the school community informed, Superintendent David Jeck released another email and Fauquier County Public School(FCPS) update:
Jeck will continue to email a summary of updates to families and staff daily (Monday-Friday) in the late afternoon/early evening.
Teachers are finalizing third marking period grades. Only essential staff are reporting to schools.
Report cards and/or final grades will be sent to families when schools reopen.
Teachers will update student Blackboard accounts by the end of the week with accurate information on where they will end the semester.
Kindergarten registration has been postponed until further notice.
FCPS will be launching a grab-and-go meal service for students next week. More details tomorrow.
For the latest information, visit the county COVID-19 website: www.fcps1.org/covid19