March 19 Announcement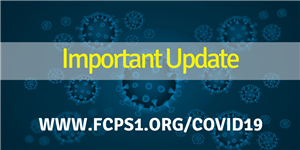 On March 19, Fauquier County Public School (FCPS) released an update about extended closure, online resources and Fauquier FISH's Weekend Power Pack program.
On March 16, the plan was for teachers to prepare materials in case of long-term closure but the situation presented difficulties in getting hard copies home. FCPS will provide families with information, including tips and instructional resources. The materials are optional and meant to help continue instructional content. A link will be ready on March 23 and updated regularly. Teachers will also provide resources and activities for students to stay connected and update Blackboard pages with current academic progress for students and families.
Fauquier FISH's Weekend Power Pack program, weekly food bags for families in need, will continue. FCPS provided this information: Uncontacted Weekend Power Pack families or families in need of food assistance are asked to call FCPS's food hotline at 540-422-7110 or email [email protected].
FCPS provided an article to help maintain a routine at home. Additional resources are available through the American School Counselor Association link. Families in need can visit Fauquier FISH Food Pantry, Fauquier Community Food Bank and Thrift Store and Clara's House Food Pantry for more information.