LFCC Updates High School Students on Plans for Dual Enrollment
Due to the closure of Virginia schools, Lord Fairfax Community College (LFCC) administrators have been working with school division superintendents to develop a course of action regarding spring dual enrollment (DE) courses. The college sent out a letter and an email to parents and students currently enrolled in a dual enrollment course detailing how students will continue this 2020 spring semester. 
In the letter sent out on March 29, Brenda Byard, Dean of Academic, Student Affairs, & Outreach, released the following information:
Students enrolled in full-year courses and second term courses will continue DE instruction and receive a grade at the end of the school year.

Second term sequence courses, where the first course in the sequence is taught during the first half of the term and the second course is taught during the second half of the term, will continue with students receiving a separate grade for each individual course.

Registration for LFCC summer and fall begins March 30. 

Seniors planning to attend LFCC in the fall must attend a virtual New Student Orientation.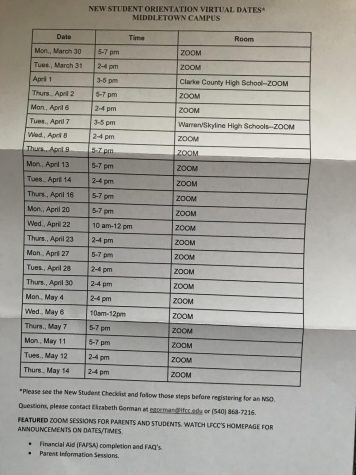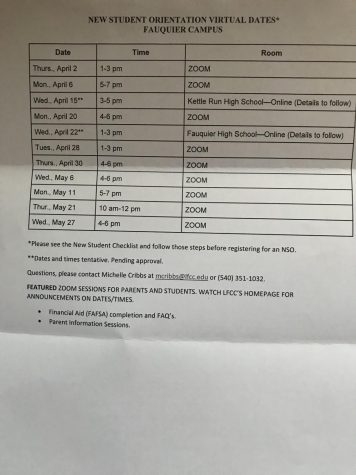 For more information, Byard asks that students contact their high school career coach or email her at [email protected]. Students may also look on the LFCC website under the Frequently Asked Questions of the 'Students' section.
Following the letter, an email was sent out by career coach Belinda Knudson to students who are enrolled in second term sequence courses. She said that students have earned their first three credits during their first nine weeks of class. However, in order to earn the second three credits, they must complete the last nine weeks of the course. Students have the option to not earn the last three credits and drop the course. They must email their DE teachers by April 15 to drop the class and will receive a refund for their last three credits. 
Knudson also included the following details about the grades and the Advanced Placement (AP) test:
Based on a students' work, they will receive a P+, which is equivalent to an A, B or C, or they will receive a P-, which is the equivalent of a D or an F. Virginia colleges will accept this transfer. However, students should contact out-of-state colleges for their policy. 

The option is available to receive a letter grade, which DE teachers will inform students on in the future. 

Students' choice to take the AP exam and the score they receive will not affect their DE credit. 
Knudson added that if parents have any questions, they could contact her at [email protected] or 540-316-0709.