FHS Students Opinion on Returning to School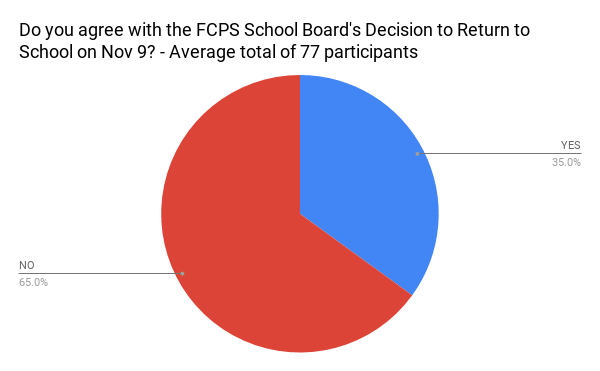 After hearing the new back to school plan presented at the school board meeting on September 23, students, parents and staff have been scrambling to figure out their next move. Families were given the option to go into school two days a week based on last name or stay virtual. The community has been sharing their thoughts and opinions all over social media.
According to a 24-hour period survey conducted by The Falconer on Instagram, Twitter and the website an average of 65 percent of participants thought going back was a bad decision, and about 35 percent of participants thought going back was a good decision.
Participants were also given an option to share their thoughts on the school board's decision to return on November 9. Students at FHS voiced concerns from lack of resources in the county to a lack in schooling while virtual.
Several students said they do not feel comfortable returning and do not think the county is well enough prepared. "I just don't believe our county has the resources to do this and have complete safety measures. I believe it's very rushed especially since it's the middle of the semester." said senior Mckenzie Hurley. Others shared that they just got used to online learning and weren't willing to risk being "thrown out of routine, just for cases to rise again and then we get sent back again," said senior Cameron Morris.
Some students are finding the decision harder to make. "It's definitely a gamble, but I'm glad because online school doesn't seem legitimate," said sophomore Nora Waide. Others voiced a similar concern over catching COVID-19 but wanting in-person instruction.
"It's hard to learn over the computer. I'm going crazy in my house," said Cassie Mason. Since August students have repeatedly had incidents where power cut-off, WiFi was lost or links couldn't be joined among a variety of other situations making online learning harder for some compared to others. "I don't think we can continue to live in fear of this virus. It's also time for actual learning, all I've been doing is busy work," said senior Eric Ballantyne.
*DISCLAIMER: Voters were not chosen. All responses are associated with The Falconer's social media sites.*
Leave a Comment
About the Writer
Drew Kolb, Editor-In-Chief
Hey everyone! My name is Drew and I am a senior and Editor-in-Chief of the Falconer. I joined the paper at the beginning of freshman year and have held...