Virginia's 5th District Deserves Better Than Bob Good
Tomorrow, voters will have a choice to make. While most of the attention has been on the presidential race, this is not the only election taking place on November 3.
In my congressional district, Virginia's Fifth District, Dr. Cameron Webb is running against Former Campbell County Board of Supervisors Member Bob Good for Congress. Due to Good's support for President Donald Trump and his homophobic rhetoric, and due to Webb's experience as a doctor and his calls to reform the criminal justice system, I am endorsing Webb.
During the campaign, Good has made it clear that he is a supporter of Trump, despite Trump's hateful rhetoric and his failure to lead us through the COVID-19 crisis. His website says "President Trump's policies have delivered a growing, vibrant economy and we must ensure that our representatives back his agenda." He said on Facebook, "President Trump needs a conservative champion he can truly count on and someone who believes in the conservative values that founded and sustain our nation."
He also supports Trump's immigration policy. While he did admit that America is a country of immigrants, he also said that the current status of the immigration system is a danger to "our national identity" on his campaign website. It is likely that, if elected, Good will continue to support Trump and his ideologies.
Good has also made it clear that he is against allowing members of the LGBTQ+ community to be treated with equality. He criticised Congressman Denver Riggleman for officiating a same-sex wedding in 2019. He is also against the Virginia Values Act, a law that protects members of the LGBTQ+ community from discrimination in employment and housing. He supported a resolution that asked the state to give Campbell county the power to force all public restrooms to be gender specific. Good's record on this issue shows why he does not deserve to be elected for Congress.
Webb is a doctor in Charlottesville with experience working in the White House. He participated in the White House Fellowship program under former President Barack Obama. He also served on the White House Health Care Team. Health care is one of Webb's priorities. He is proposing a public option for healthcare and allowing Medicare to negotiate drug prices. Webb's background as a medical doctor gives him the experience to reform America's health care system.
Reforming the criminal justice system is also a priority of Webb's campaign. Webb participated in Obama's "My Brother's Keeper" initiative, which sought to address opportunity gaps experienced by young people of color. Webb supports reducing mandatory minimum sentences for nonviolent drug offenses, ending cash bail and phasing out private prisons.
Like in the Presidential election, voters of Virginia's Fifth District have an important decision to make. Good has made it clear that he will do nothing to stand up to Trump and that he will use hatred and bigotry to bolster his campaign. Webb may have briefly served in Trump's administration, but the two men cannot be more different. He has used the fact that he has worked with both Obama and Trump to say that he could help be a unifier for the country. We can choose an enabler of Trump who uses bigotry as part of his political campaign, or a doctor with the proper experience to address the challenges facing our nation.
Leave a Comment
About the Writer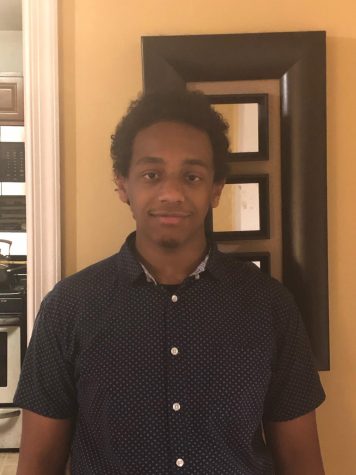 Raeid Ebrahim, Staff
My name is Raeid Ebrahim, and I am a senior. This is my third year on the staff, and I will be continuing my role as the first political columnist of The...