Thanksgiving Amidst COVID-19: FHS Students Find New Ways to Commemorate the Day
Today is Thanksgiving, a holiday where people meet with their family and friends to enjoy a large feast. However, due to the COVID-19 pandemic, the Centers for Disease Control (CDC) is advising people not to travel, only have celebrations with immediate family and continue following the 3 W's, wash hands, wear a mask and watch your distance.
With this being said, the large social gatherings, in years past, won't be taking place at this year's Thanksgiving celebrations. Students at FHS voiced disappointment but understanding surrounding the situation when family get-togethers were canceled. Plans to celebrate Thanksgiving were only one of many situations where students saw major adjustments to their everyday life.
For junior Izzy Evans, this means reducing the number of members attending Thanksgiving. Her grandparents on her dad's side aren't coming as an extra precaution for health. They are planning to deliver food to them over the weekend, however, Evans said it won't be the same. "It makes me sad because we always have a big Thanksgiving with all my family from both my mom and dad's side," said Evans.
Sophomore Lane Smith will only be celebrating with immediate family, different from prior years. Smith said her family will keep their family traditions but will only be to honor them with some of the family. "I am sad that I can't see all of my family, but [I am] happy that some of my family will come," said Smith.
Families and students across the U.S. had a change in the holiday routine but that doesn't mean they don't value the precautions set in place. "For one thing, if you have older family members, you are putting them at more of a risk by gathering in a big group with them, and two, it is better to think of the safety of everyone else in your family over what you want," said Smith.
For Evans, a driving factor in their family decision was contact tracing and travel. Evans said it would be hard for them to have a big Thanksgiving because that would put others at risk. "With holidays, there's not a lot of social distancing because you haven't seen these people in a long time, so it's tempting to hug them," said Evans.
While not being able to see family for the holidays can be stressful, the CDC recommends safety practices to reduce the number of COVID-19 cases and protect families. "It's important to remember others first, especially during this season of giving," said Evans.
Leave a Comment
About the Writer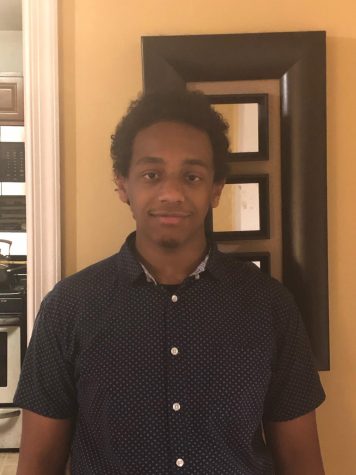 Raeid Ebrahim, Staff
My name is Raeid Ebrahim, and I am a senior. This is my third year on the staff, and I will be continuing my role as the first political columnist of The...