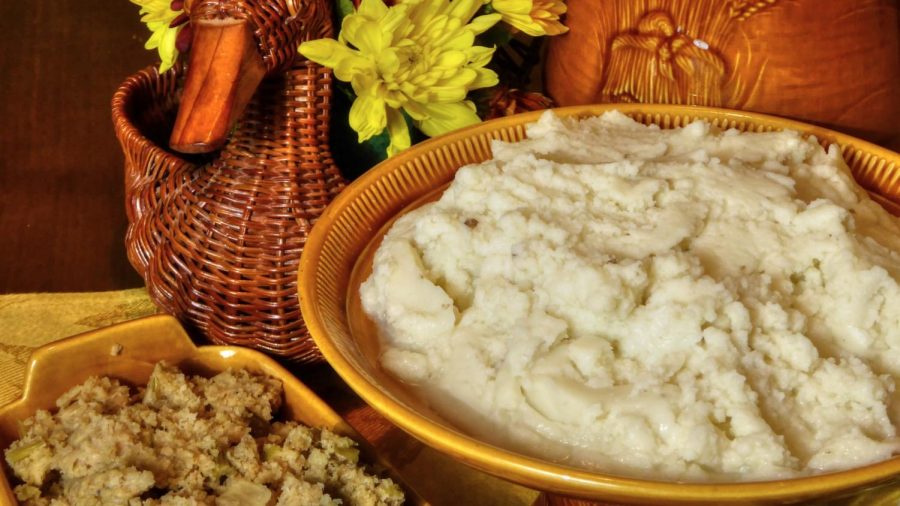 Vegan Roasted Garlic Mashed Potatoes
Vegan Roasted Garlic Mashed Potatoes
Ingredients
Roasted Garlic*
1 whole garlic bulb
Extra virgin olive oil, for drizzling
Sea salt
Mashed Potatoes
2 lbs. Yukon gold or butterball potatoes, peeled.
2 tsps. sea salt.
⅓ c. extra-virgin olive oil.
Freshly ground black pepper.
Butter, optional.
Chopped chives and/or rosemary, optional.
Instructions
1. Preheat the oven to 350°F.
2. Make the roasted garlic:
3. Trim the top ¼ inch off the top of the garlic bulb.
4. Place on a piece of foil, drizzle with olive oil and sprinkle with salt.
5. Wrap the garlic in the foil and roast for 40 to 60 minutes or until the cloves are deeply golden brown and tender.
6. Remove from the oven and let cool slightly.
7. Use the back of a chef's knife, or a small masher, to mash the garlic into a paste before incorporating into the mashed potatoes.
8. Set aside.
9. Make the mashed potatoes:
10. Place the potatoes and 1 tsp. of salt in a large pot.
11. Fill with enough water to cover the potatoes by 1 in.
12. Bring to a boil and cook until fork tender, about 20 minutes.
13. Drain all but 1 c. of the cooking liquid.
14. Use a ricer, or a potato masher, to mash the potatoes into a large bowl.
15. Use a rubber spatula to fold in the roasted garlic, olive oil, ½ c. of the liquid from 3d, 1 tsp. salt and several pinches of pepper.
16. Continue folding until creamy, adding up to ½ c. of additional liquid, if desired.
17. Serve hot with butter, rosemary, and chives, if desired.
*NOTE: the roasted garlic can be made up to 3 days in advance and stored in the fridge until ready to use.*
*CAUTION: When consuming pre-prepared and canned food items such as green beans, corn, and garlic, foodborne illnesses can occur such as Botulism. For instructions on how to store food properly and how to diagnose Botulism, go to https://www.cdc.gov/botulism/prevention.html for more information.*