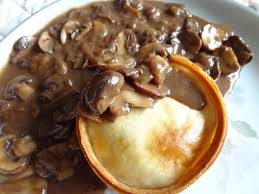 Vegan Mushroom Gravy
Ingredients
2 tbsp. extra-virgin olive oil
1 shallot, finely chopped (⅓ c.)
16 lbs. cremini mushrooms, sliced
½ tbsp. tamari
2 garlic cloves, minced
1½ tbsp. fresh thyme leaves
½ tbsp. chopped rosemary
¼ c. all-purpose flour
3 c. vegetable broth
Sea salt and freshly ground black pepper
Instructions
1. Heat the olive oil in a large skillet over medium heat.
2. Add the shallot and cook until soft, about 4 min.
3. Add the mushrooms and cook until soft, about 8 to 10 min.. Stir in the tamari, garlic, thyme and rosemary.
4. Sprinkle the flour over the mushrooms and stir for 1 min.
5. Add the broth and simmer until thickened, whisking often for about 20 min.
6. Season with salt and pepper to taste.
*ALTERNATIVE: Gluten-free: Omit the flour in step two. At the end of step three, spoon a few tablespoons of the liquid into a small bowl. Add 2 tbsps. cornstarch and stir until smooth. Pour this mixture back into the pan and stir until the gravy thickens.*
COMMENTS MUST BE MANUALLY APPROVED BY STAFF BEFORE THEY BECOME VISIBLE. Please remember to follow our comment policy when posting.