FHS Varsity Football Wins Against Liberty High School for the First Time in Over a Decade
For the first time in over a decade, the FHS Varsity Football team won against the Liberty High School (LHS) Eagles on Monday, March 1. The final score of the game was 21-14. "Beating Liberty, this year, is one of the greatest feelings in the world. Losing to LHS in my first two years and being able to beat them this year and breaking that enormous losing streak is amazing," said senior and quarterback J.T. Diehl.
The local school rivalry was present as many of the players rejoiced in winning because it was against LHS. "The FHS football team took this win personally because they were able to break the streak and win against LHS," said junior Luke Thomas.
The team has struggled with "losing records and getting a new coaching style," said senior Brandon Byars. Head Coach Karl Buckwalter started coaching at FHS last year. Players were glad to win a game this season and hope to continue.
With all the additional changes because of COVID-19, Assistant Varsity Football Coach Chad Hoffman said, "The season changes actually helped us, it gave the kids more time to prepare.The kids work hard and are determined to be the "change" that Fauquier football needs."
The team practices almost every day to prepare for their next opponents. "We are taking the season game by game and we are going to build off this win and keep playing our best football," said Diehl.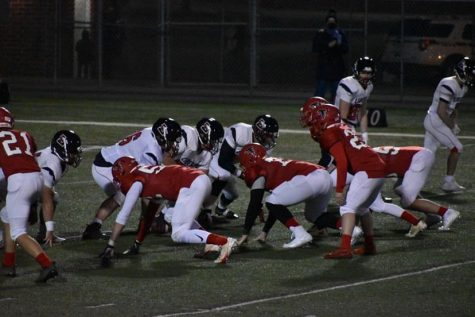 Leave a Comment