FHS Library Study Bike to Exercise the Mind and Body
In February, the FHS Library added a workout bike to their room with a courtyard view. They implemented this "study bike" after learning about a trend in middle schools, high schools colleges. "The bikes allow people to get exercise while still being able to read or do school work. The benefits are many: Exercise sharpens focus, enhances mood, helps impulse control, improves memory, and increases energy and productivity," said librarian Rebecca Isaac.
After hearing about the benefits the librarians thought it would be a good addition. Kettle Run librarians installed a bike five years ago with funding from the PATH Foundation. Their "students enjoy taking a break from class and getting their energy out, and teachers use them after school," said Isaac.
The library is using this bike as a pilot to see if they will implement more in the future. They've placed the bike so riders can see out into the courtyard. "We want to see how successfully this one gets used. If we decide to get more, we may pursue a grant through the Path Foundation, since they are focused on health and wellness in the local community," said Isaac.
Isaac hopes the bike will become more useful as more students return to the building. Freshman Nick Warren took a break during his advisory to read on the bike. "I thought it was a great use of time. I could learn knowledge and get my exercise in for the day. I would definitely recommend this to other students to use because it gets you moving and exercising while you're still reading and learning and expanding your brain," said Warren.
Students can use the bike before or after school, during advisory, during lunch or when they have free time. "One day, when I had been sitting too long at my desk, I went and rode the bike for about 5 minutes. I was able to discuss a computer issue with our computer tech while exercising (the bike is very quiet!), and the monitor showed that I rode 1 mile and burned 50 calories in around 5 minutes. And I felt so much better afterwards. It was amazing," said Isaac.
Leave a Comment
Thanks for reading The Falconer. We're happy to provide you with award-winning student journalism since 1963, free from bias, conflicts of interest, and paywalls. We're able to continue with the generous support of our local community. If you're able, please consider making a donation. Any amount is incredibly helpful and allows us to pursue new and exciting opportunities.
About the Writer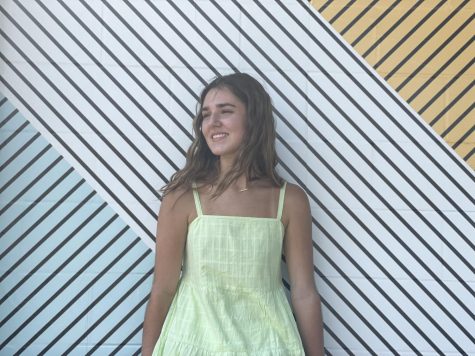 Catherine Smith, Editor-in-Chief
Hey everyone, my name is Catherine Smith! I'm a senior, and the Editor-in-Chief of the paper this year! I joined The Falconer as a freshman and have...