Wrestlers tackle their way into the season
Team captains set high goals for participants as the weeks progress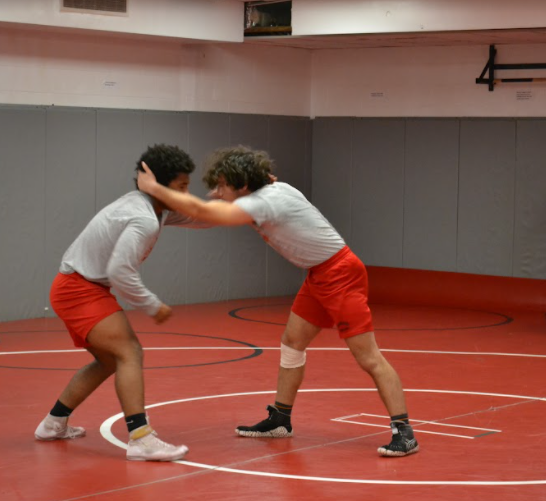 Taking teams to the mat, this year's wrestling team is focusing on exercises to improve strength and agility. There are four captains, seniors Kingsley Menifee, Reece Kuhns, Gavin Robertson and Bryce Frost.
"I've been a part of Fauquier wrestling since fifth grade, so it's awesome to see I'm in the same sport as the guys I looked up to when I was younger. As a captain I have to set an example for the younger guys and even act as a coach at times for the new wrestlers," said Kuhns.
There are around six practices before the first competition. After the first wrestling meet, the team will practice daily in order to prepare. Practices are "two hours of hard drilling and intense conditioning," said Kuhns.
With last year's disadvantages due to COVID-19, like the inability to team bond outside of the wrestling room, the team placed top four in both districts and regionals. This year, the goal is to earn the top spot.
"Usually, our team thrives off the long season, because we travel around the east coast and see great competition. Last year, we didn't get that aspect so it will be great to be back there this year," said Kuhns.
Head coach Chad Hoffman is working to prepare the Falcons for their season and their biggest rivals the LHS Eagles.
"Our team goal is to win districts, region and state as well," said Hoffman
However, each participant has their own goals for the season.
"I want to place at the bigger tournaments that we're going to during the season like Beast of the East and Iron Man, but I would still enjoy winning a state title this year," said Menifee. "The team goals though, I think we could win districts and possibly regionals. I also want us to just have fun as a team really."
The wrestling team encourages students, especially freshmen, to join. He emphasises the no experience necessary,
and he encourages all interested students to stop by room 301 with questions.
"Everyone gets along really well, we all work really hard and we have fun together," said Menifee.