Musician Spotlight: Mason Pauling
Senior Mason Pauling is a multi-instrumentalist. His main instrument is the cello, but he also plays the marimba, steel pans, bass, and guitar. Pauling began playing the cello in fifth grade, thanks to inspiration from his teacher. "My fifth grade teacher was talking it up, so I was like, 'You know what? I gotta check this out.'"
Pauling is involved in many school music programs such as: pep band, marching band, steel pans, and jazz band. "Orchestra has helped me with band because I already knew the basics of music, so I could already just move instruments with ease, but going from band to orchestra definitely helped me with reading treble clef and transposing music," said Pauling
Pauling credits FHS alumni, Tori Oakley, as his biggest musical influence. "She was a phenomenal cellist who taught me half of the technique I currently know. It was scary how good she was."
For Pauling, music class is a time away from every-day school stresses. "When I'm playing an instrument I'm thinking 'Oh my goodness this is fun.' I'm not stressed out about what's going on in my day or about the test I have to take tomorrow. I'm thinking, 'Wow this is fun,"' said Pauling.
Music has helped Pauling grow both creatively and socially. "I've made a lot of friends because of band. With marching band, you go into a camp with six people, and you're coming into high school with six people you know. You don't have to be friendly with them, but at least you know them," said Pauling.
His favorite part about playing instruments is "conquering the hard stuff." The best advice he received was, "'Don't mess up.' I know it's simple, but when I play, I just think, 'Don't mess up.' Mr. Chapman, my middle school orchestra director, gave me that advice."
Although Pauling plays a number of different instruments, he wishes he tried piano. "You can play basically everything on a piano. You can carry a groove with it. You can play all kinds of music on it – rock, jazz, classical, country, whatever you want," said Pauling.
Pauling plans on continuing his music through college, and pursuing a career in musical education at Liberty University. "Mr. Arnett is the current orchestra teacher at Taylor Middle School, but he's a band person. I wanna be like him, but with more knowledge of string instruments," said Pauling.
Leave a Comment
About the Writer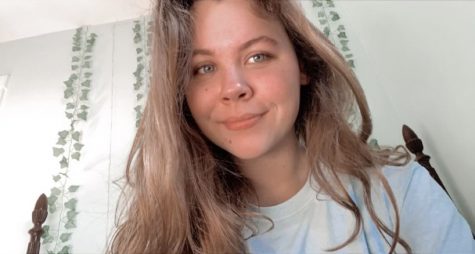 Margaret McGee, Lifestyles Editor
Hey! My name is Margaret McGee, and I'm a senior. This is my third year participating in The Falconer. Outside of journalism, I play the Viola in Chamber...