Adoption of Schoology Met With Praise and Controversy
Last year, FCPS1 voted to adopt Schoology as the new Learning Management System (LMS), replacing Blackboard. The platform, which is half the cost of Blackboard, was hailed by county officials as a robust system with multiple features that teachers and students could take advantage of. Ann Alexander, the Deputy Superintendent's Office Manager, said in a previous interview that "this is a cheaper product, but also a better product as far as functionality."
So far, Schoology has been appreciated by many staff members. "I think it organizes things a little bit better and I think it's great that our school is on one learning management system, because before, [some] teachers were using Infinite Campus, and some were using Google Classroom, and some were using Blackboard, which I think made it really complicated for parents and students," said Traci Mellor, an English 11 teacher.
World History II teacher Annie Glascock agreed: "From the teacher perspective, it'll be easier as far as grading goes." Principal Kraig Kelican said, "I like the platform, I think it is a lot more user-friendly than what we had with Blackboard…It seems to be much easier to use across the board. I realize there's some frustrations with some folks. From the feedback I've gotten, I think the majority are happy with it, but I think it's the frustration of converting to something new, and change is not always easy," said Kelican.
This doesn't necessarily mean Schoology hasn't faced criticism. Of the teachers who would talk to The Falconer, they were careful with their words when criticizing the platform. "I like it about 80% of the time… I don't think the training has helped us figure out everything – like the midterms and the finals, we've had to figure that out on our own." said Susan Mangicaro, a math analysis and geometry teacher.
"I really miss Google Classroom," said photojournalism teacher Phillip Nobblitt. Last year, Nobblitt was on the board that voted on which new platform to adopt, and he voted against Schoology. "The biggest issue I have with the way it's been rolled out is nobody taught the students how to use it, nobody thought who was going to shoulder that weight, and I guess we as teachers have been given that task," said Nobblitt.
Schoology has also been plagued by student criticism. In a survey conducted by The Falconer, emailed to all FHS students, over 70 percent of students said, "Switching to Schoology was the wrong decision." Additionally, over 75 percent of students also responded that Google Classroom was their favorite LMS, followed by Blackboard with 15 percent. Of the 62 written responses The Falconer received, 59 spoke negatively of Schoology, with some students even writing multiple paragraphs of complaints. In a follow-up email, freshman Sarah Assi said, "Most of my teachers don't even give out online assignments just because of how difficult it is to turn things in." One student anonymously wrote, "It sucks; It looks like a system that was made and stayed in the nineties." Junior Reese Brown wrote, "The user interface is much more difficult to navigate and less accessible than Blackboard or Google Classroom."
It has also been criticized for the numerous glitches that have occurred in the first part of the school year, including integration with Google Drive, submission of assignments, the mobile app, and its notifications. "There's a few glitches going on," Kelican said. Louis McDonald, the Director of Technology Services for FCPS1, could not be reached for comment.
Despite agreeing to be interviewed last year during the adoption of Schoology, multiple county officials refused to be interviewed. Tina Ference, the Educational Technology Leader for FCPS1, said in an email, "I would rather wait until the second semester or near the end of the year as it is a new technology and takes time for all to learn and get used to using." Ann Alexander, a key source on the previous story, also refused to be interviewed after consulting with Ference. Both were interviewed by The Falconer last year about Schoology without issue.
Multiple teachers who have reportedly criticized the platform also refused to be interviewed, with one saying "I plead the fifth" and darting back into their classroom. Due to their unusual refusal to be interviewed, however, these claims of criticism could not be verified by The Falconer. "I would think this is something someone would want to share information about, so I'm not sure why that animosity is out there," said Kelican.
According to the contract signed with Schoology's parent company PowerSchool, obtained through a Freedom of Information Act request, the contract expires at the end of the 2024-2025 school year, meaning that it is likely to stay at least until then. However, despite the criticism, many teachers still remain optimistic about its future. Mellor said "I was a long-term sub when Schoology was first implemented in [Loudoun County], and there was a lot of grumbling at the time about changing over to Schoology, and it's always rough to change and to do something new, but I think the key is to give it enough of a chance."
Leave a Comment
About the Writer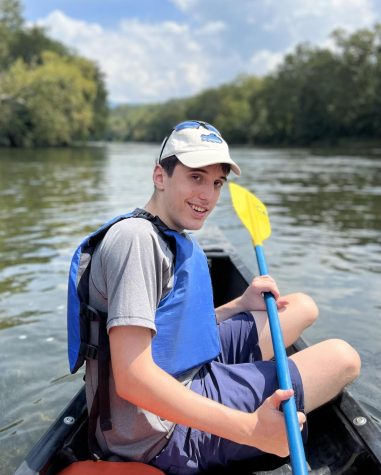 David Achter, Managing Editor
Hi! My name is David Achter, and I'm the Managing Editor. I am a junior and enjoy working with computers, writing about news, and having fun outdoors....