Renard Carlos is Warrenton's Best Choice for Mayor
This Tuesday, voters living within the town of Warrenton will cast their ballots for mayor. The incumbent mayor, businessman Carter Nevill, is facing a challenge from at-large Councilman Renard Carlos. Due to his long experience in public service, his new ideas, and his willingness to bring transparency to Warrenton's government, Carlos is the best choice for mayor.
Carlos has an extensive background in community service. He is currently the vice president of the Fauquier County chapter of the National Association for the Advancement of Colored People, or the NAACP. Carlos has also served on many community boards, including the Laurel Ridge Community College Board, where he is a graduate from. Carlos is currently employed by the Northern Piedmont Community Foundation, a non-profit organization dedicated to community service in the counties of Fauquier, Culpeper, Madison, and Rappahannock. He is their Manager of Programs and Communications. Carlos' extensive public service has equipped him to govern on behalf of all citizens of Warrenton.
Carlos has made affordable housing in Warrenton a central issue of his campaign. Lack of affordable housing is a national problem, and has affected the town of Warrenton. Expensive housing makes it harder for many people, especially young people, to afford to live in Warrenton. "How do we keep folks who are graduating college or maybe going to trade school?" Carlos asked in an interview with the Fauquier Times. "We'd love to keep the best and brightest here in Warrenton, but they've got to have a place to stay," said Carlos.
Carlos believes that making housing more affordable will help the town's economy as well as improve the quality of life in the community. Carlos supports addressing this issue by using some of the town's property to provide affordable housing to the community. "I just recently asked for that to be brought forward to the town council and to actually look at those properties," said Carlos. "And so, the next phase, in my opinion, would be starting to actually look at the property that we have that could potentially be used to do affordable housing projects," said Carlos.
Amazon's controversial proposal to build a data center on Blackwell Road has been a major issue in the local community. Carlos has said that residents have expressed "outright rage over the lack of transparency." According to the Fauquier Times, town employees have signed non-disclosure agreements, or NDAs, with Amazon, shielding the town government from discussing the data center with the press. The Fauquier Times' parent organization has been forced to spend about $1,350 on FOIA (Freedom Of Information Act) requests, in order to provide the public with information about the data center.
While Carlos hasn't outright said that he is opposed to the data center, he has said that he is "very skeptical" of Amazon's proposal. "The process that I've witnessed makes it very difficult for me to render a judgment," Carlos said. "There are a lot of questions right now that I don't know that I have the answers to," said Carlos. Carlos said that people shouldn't have to spend "thousands of dollars" to know what their town government is doing. Carlos has been endorsed by Protect Fauquier, a group opposed to Amazon's data center proposal. The incumbent mayor, Nevill, has defended the town government's conduct. Carlos will stand up for transparency and will protect the interests of Warreneton's citizens.
The people of Warrenton deserve a mayor who is willing to stand up for them. Carlos' extensive background in public service, his willingness to fight for affordable housing, and his commitment to transparency is what Warrenton needs right now.
View Comments(1)
About the Writer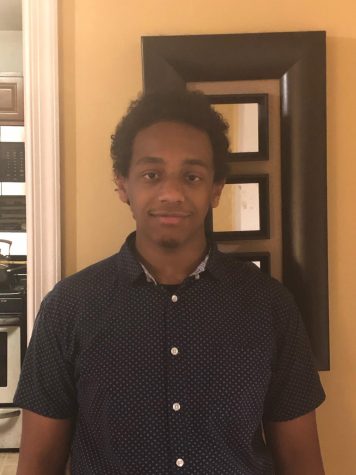 Raeid Ebrahim, Staff
My name is Raeid Ebrahim, and I am a senior. This is my third year on the staff, and I will be continuing my role as the first political columnist of The...