New Fashion Trends for Winter 2022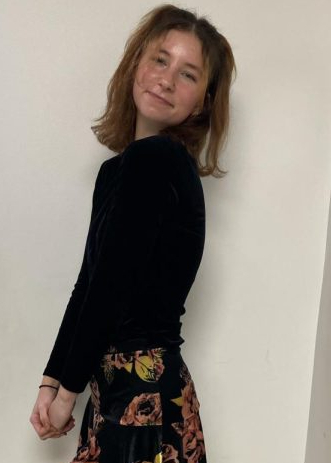 The weather is cooler – just like the winter fashion trends. As we approach these chilling months, the clothing pieces are changing to fit the appropriate weather. As we move from basic long-sleeves to big parkas, I have all the right options for your fashion choices this winter.
The first thing that will be very trendy this winter is color blocking. Bold and bright colors are coming back, and they are going to be big. So, what is color blocking? Color blocking is often described as "mixing two or three bold and often contradictory colors together in one ensemble to make for an exciting statement piece," according to Byrdie. Color blocking was very popular during the disco ages, and now it's making a comeback for this winter. If you're not looking for big, bright, bold clothing pieces, try accessories. A bold hat, bag, or shoes will also correlate into this category.
The next item that will be a popular fashion statement this winter is low rise mini skirts. These skirts are usually styled with a pair of sheer tights, and a cute blouse. Low rise went away a while back, but they are coming back for this winter season. Y2K is a popular style to wear low rise mini skirts. This can be styled with bright accents to go along with the skirt. It can also be styled in a business way. You can complement the skirt with a turtleneck, a blazer, and a pair of heels. This item of clothing is definitely a bold statement for this winter.
Another upcoming trendy clothing item is patchwork pants. These fun pants first started becoming popular in the 70s. Back then, patchwork pants were made by hand, with stitching and patches. They eventually evolved into becoming a style, but sadly went away in the early 2000s. Patchwork pants are back and ready to take over once again. You can style these spunky pants in many different ways, such as by wearing a minimalist top and accessories, so the pants are the main point of the outfit. Another look at styling these jeans would be on the more classy side. Especially for winter, these pants could be accented by a chunky sweater to a trench coat. Patchwork pants can be a staple to any sort of outfit this winter.
The last trending item isn't completely new. Sports luxe has been popular for a while, but that doesn't mean it isn't going to be big this winter. Sports luxe is the idea of wearing sporty clothing, while still being fashionable. This trend combines a sport varsity jacket with a mini skirt and heels. Sports luxe is all about creating the look of oversized tops and tight bottoms. It's not meant to look sloppy, but more sophisticated. Another way to achieve this look would simply just combine track pants with a dressier blouse and a pair of nice shoes. This look is very much out there but will be major this coming winter.
With all that being said, the upcoming fashion trends are nothing new in the fashion industry. That doesn't mean that they aren't making a comeback. Since these trends are not new, finding pieces to fit the style should not be difficult. You may be able to find these pieces at a local thrift store or even in the back of your closet.
Leave a Comment
About the Writer
Clara Compton, Lifestyles Editor
Hi there! My name is Clara Compton and I'm a junior here at FHS. I love to read, play basketball, and thrift. This is my second year working with The...