"Scrooged" is a Christmas Classic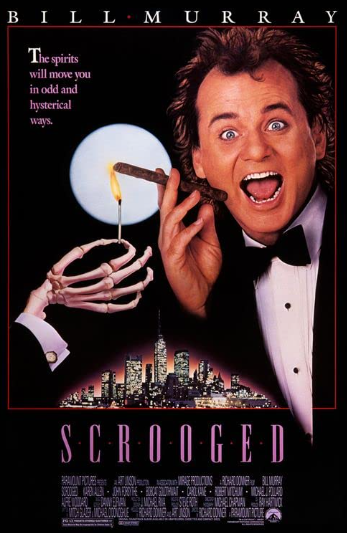 Bill Murray in the Christmas fantasy film "Scrooged" plays the heartless Frank Cross, a rich New York business man with a rough past. As the Christmas season approaches, Cross becomes angry at life. He wants to cut his TV show and is constantly firing his employees and treats everyone in his path poorly. The movie is based off of "A Christmas Carol" with a rethought version of Ebenezer Scrooge as Frank Cross. The movie features three ghosts that haunt Frank Cross. Each ghost will walk Cross back through all the failed moments in his life to try to make him a better person.
About halfway through the movie, Cross is visited by his deceased mentor, the first ghost, and is reminded of all of his past mistakes. The Ghost of Christmas Past is the second ghost to visit Cross, and walks him back through his abusive childhood and past failed relationships. This ghost was the most important one that appeared in the film, because he had the most influence over Cross, and had the most comedic lines as he was portrayed as a taxi driver. The final ghost was the Ghost of Christmas Present, who shows Cross how his family and friends have turned out because of his mistakes. Cross realizes his errors and begs for a second chance at life.
"Scrooged" is a classic New York Christmas movie with a funny and fantastical twist. Bill Murray portrayed Frank Cross in a cynical, but comedic manner which plays along very well with the script. However, I did find the movie to be overall very weird. The ending was predictable and although the movie is considered fantasy, some of the comments made and the way the characters acted was uncomfortable to watch at times. For being produced in the 80s, the quality of the movie was impressive and very typical for the time period. "Scrooged" is definitely a movie to add to your Christmas watching list.
Leave a Comment
About the Writer
Drew Kolb, Editor-In-Chief
Hey everyone! My name is Drew and I am a senior and Editor-in-Chief of the Falconer. I joined the paper at the beginning of freshman year and have held...