Exchange Students Enjoying American High School
On Sept. 8, 15 exchange students from Spain arrived at FHS for the first time. They came from the school La Salle Santander, located in Santander, Spain, and stayed for two weeks to experience the American high school culture. Those selected came out of a pool of 35 applicants at their school, but only the ones with the best academic and behavioral records were chosen to participate in the program. "We choose them by their grades in English…they had to study and be good kids," says Victor Peña, the students' chaperone and advisor.
One of these students is Paula García, and she was inspired to participate in the program by what she saw on social media. "I used to see a lot of exchange students on my 'for you page' on TikTok enjoying this experience, and I decided to come and live it," she says.
Once the students arrived in America, they lived with a host family for two weeks, chosen for them by teachers at FHS. This decision was made with the help of a form filled out by host families, with questions ranging from how many students they can host to if they have any pets.
Peña chose the location in America where the exchange students would attend school. He says he picked FHS because "we have had an amazing relationship throughout past exchanges, it has all the facilities we wanted, and it is very close to do visits to Washington DC".
Hugo Gil Bastide, another exchange student, says that one of his favorite parts of America is the patriotism: "I like the respect you have for your veterans." In addition, he "really enjoyed the high school spirit" and "how interesting and weird the classes are."
Similarly to Bastide, Ángela Alcalde enjoys how at FHS "you can choose what to study among so many options," but dislikes that "you only have four periods of subjects in one day, and that the classes last for an hour and a half". Outside of the school, her favorite parts of America are "the skyscrapers and the views."
The students visited New York City after their two weeks at FHS. As a result of being away from home, García says, "I miss Spanish food, and, of course, my family and friends. But I always have on my mind that I'm going to see them again after this incredible experience."
García, Bastide, and Álcalde all would recommend the exchange student program, because of the resulting exposure to a different culture, the great people you meet and the life lessons it teaches you, sentiments echoed by their advisor.
Peña says, "It will help you to improve your linguistic skills, but also teach you about respect, being adaptable to new situations and becoming more curious and independent. You experience unbelievable visits to new places and have the opportunity to make lifelong friends and memories around the world."
Leave a Comment
About the Writer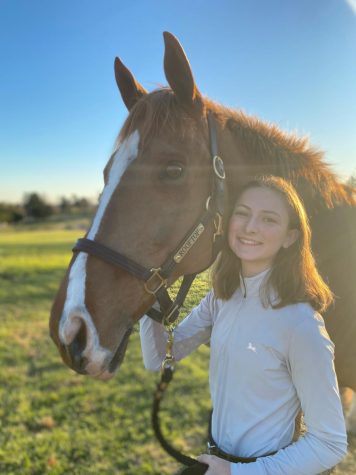 Ali Patusky, Managing Editor
Hi! My name is Ali Patusky and I am a senior. This is my third year writing for The Falconer and I am the Managing Editor. I write for a local magazine...