Seniors Reflect on their High School Sports Legacy
As the 2022-2023 basketball season is coming to an end, seniors Rey Ruiz and Zach Potucek get ready to step off the court and hang up their jerseys for the last time. Fauquier has struggled with a record of 5-17 and is ranked 10th in the northwestern region. Despite the difficult season, Potucek keeps a positive outlook. "In my 2 years of varsity we didn't win very much, but it's a fun team environment."
The team faced a number of challenges, including a change in leadership. "We had to get a new coach for both of my years on varsity," said Potucek. "Last year we felt like our coach didn't look out for us and he didn't make an effort to make any changes. This year our coach wanted us to win games and be successful."
Even though the season has been tough, the team focuses on their personal growth and development as a team. "At the beginning of the season we were getting blown out by 30 points, but towards the end we got a little bit better. The team has improved on defense, I've improved my ball handling and shooting skills, and I've also gotten a lot more athletic," Potucek said.
When it comes to being an athlete, having an inspirational figure to admire can be the motivation for success. Ruiz and Potucek reflect on who inspired them through their basketball career, "My dad introduced me to basketball, motivated me to play and provided opportunities and resources to improve," Ruiz said. "My coaches and teammates have inspired me to have fun and to win," says Potucek.
Maintaining a spot on the team requires motivation and dedication, explains Ruiz. "Somedays I wouldn't feel like going to school or practice, but I pushed myself to go because I knew I would be proud of myself for going," says Ruiz. He continues,"Without discipline, it can lead to injury. Being focused is crucial especially in the beginning of the game because the opposing team can get a huge lead that would be hard to get back from. My teammates push and help me stay up even when I make a mistake. I try to uplift my teammates as much as possible and understand where they are coming from."
Being prepared for a big game is an important part of basketball. The sport demands a lot of preparation and dedication from players to be successful. "I focused in on pregame stretches and the ball handling," says Potucek. Ruiz focuses on getting in the right mindset to prepare. "I would try to get in the zone, be confident and believe that as a team we can win no matter what our record is."
Ruiz expresses his gratitude by saying, "I'm grateful for the bond that we've made, especially eating meals before games and having a good laugh, how I built my work ethic and getting the opportunity to play the game I love."
Basketball is not only about memorable moments, but it can also be about learning valuable lessons, as Ruiz and Potucek point out: "[I] Keep my head up after a loss and remember that it's in the past, and learn from that loss to get better," says Ruiz. "My old coach during my junior year taught me many life lessons, especially manners," said Potucek.
When asked what they would tell their freshmen selves Potucek said, "I would tell myself to definitely join the team, it's a great experience." Ruiz said, "I would tell myself to keep working no matter if it hurts to be uncomfortable. That's where you grow."
Even though he enjoyed playing during his highschool years, Potucek has other plans in mind for the future. "I don't plan on playing basketball; I'm gonna focus on college." On the other hand, Ruiz plans to stay close to the sport. "If the opportunity presents itself, I'll continue my basketball career. As of now I'm thinking about doing physical therapy to be surrounded by the sport and help others with injuries so that they can play the sport they love."
Leave a Comment
Thanks for reading The Falconer. We're happy to provide you with award-winning student journalism since 1963, free from bias, conflicts of interest, and paywalls. We're able to continue with the generous support of our local community. If you're able, please consider making a donation. Any amount is incredibly helpful and allows us to pursue new and exciting opportunities.
About the Writer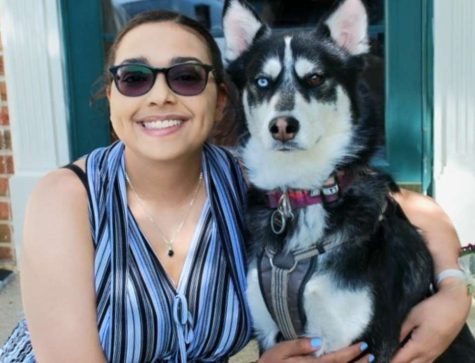 Lacey Hackett, Staff
Hey! My name is Lacey and I am a senior. This is my first year taking journalism, and I'm so excited to be here. I love talking about sports, music, movies...