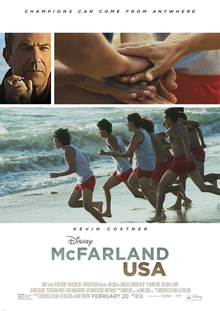 The movie "McFarland, USA" is based on a true story. Jim White was a football coach at a high school but got fired; he decided to move his family to a new place called McFarland. The new high school he is working at doesn't have the best success rate, but he makes it work. White is assigned to teach a life science and P.E class; he is also the assistant coach for the football team.
When the family first gets to McFarland they don't like it because there's so many new things they've never seen or tried before. Over time, the family settles in a little bit. White is removed from being the assistant football coach because he didn't want a boy who had a concussion to play even though the main coach did. White noticed talent in some of his students in his P.E class. He talked with the principal about forming a cross country team; the principal is hesitant but allows White to make a team. It took time to get a whole team together but they eventually formed one. During the whole movie the team had its ups and downs but they worked through them together and started getting better; because of this it made the movie very impactful and had a good moral lesson: to never give up and work hard to achieve your goals.
During White's position as the cross country coach, he does an excellent job teaching the boys to never give up. This movie does an amazing job telling each student's story but also the challenges they face. White trained the boys to be the best they could be and made them work hard to accomplish their dreams. "McFarland, USA" is a great movie for all ages because it tells a good story and a moral that people can look at and want to work towards their own dreams. When the boys lost a race they felt like giving up, but White never let them; they practiced day by day and eventually started winning races. This movie is so inspiring and wholesome, and everyone should give this movie a watch.