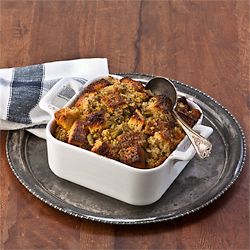 Vegan Stuffing
Ingredients
6 tbsp. extra-virgin olive oil, divided
1 c. coarsely chopped cipollini onions
3 c. chopped & stemmed mushrooms, mix of shiitakes & creminis
3 garlic cloves, minced
2 stalks celery, diced
1/4 c. chopped sage, plus 8 leaves for garnish
2 tbsp. minced rosemary
2 tbsp. balsamic vinegar
5 c. cubed crusty ciabatta + nine-grain bread*
3 lacinato kale leaves, coarsely chopped or torn
2 c. vegetable broth, plus more for reheating
1/4 c. dried cranberries
Sea salt and freshly ground black pepper
Instructions
1. Preheat the oven to 350°F and grease an 8×12 or 9×13 casserole dish.
2. In a very large skillet, heat 2 tbsp. of the olive oil over medium heat.
3. Add the onions, mushrooms, 1/2 tsp. salt and several grinds of fresh pepper.
4. Let the mushrooms cook until they begin to soften, 5 to 8 minutes, stirring only occasionally.
5. Add the garlic, celery, sage and rosemary, and cook until soft and the mushrooms are golden brown, 8-10 minutes.
6. Add the balsamic vinegar, stir, and scrape any bits off the bottom of the pan.
7. Add the bread and the remaining 1/4 c. olive oil and toss to coat.
8. Add the kale and cook until it begins to wilt about 1 minute.
9. Add 1 c. of the broth and stir.
10. Transfer to a casserole dish and pour the remaining 1 c. broth evenly over the stuffing.
11. Sprinkle with dried cranberries and remaining whole sage leaves.
12. Bake for 20 min. or until golden brown.
13. Let sit for at least 15 minutes or until ready to serve.
*To reheat, add a bit more stock and bake until warmed through and slightly crisp on top. Crusty bakery bread works best in this recipe. Soft sandwich bread will become too soggy.*
COMMENTS MUST BE MANUALLY APPROVED BY STAFF BEFORE THEY BECOME VISIBLE. Please remember to follow our comment policy when posting.