Falcon Fresh Face: Traci Mellor
The power of literature is 11 grade Advanced Placement and Dual Enrollment English teacher Traci Mellor's super strength. This is Mellor's first teaching position, aftering long-term substituting this past fall. "I've always loved teaching and even in informal places with church groups or preschool…I think, yeah, I've always wanted to be a teacher in some capacity or other," said Mellor.
She received her undergraduate from Utah State University, majoring in history and minoring in Russian. She pursued her Masters in liberal arts, with a focus on classic literature, at St. John's College in Annapolis, Maryland. "You approach it all from a classic angle and you talk about it in seminar discussions. There's no textbooks, or professors or lecturers. It's all discussion style, so it was a really awesome Masters program," said Mellor.
A year ago, she finished the career switcher program, which allows Virginians with a Masters degree and prior work experience to get a teaching license. She did some student teaching then applied to FHS.
Outside of school and being a mom, Mellor loves to do letter art and calligraphy. She also enjoys camping, hiking and spending time outdoors. Mellor can fluently speak Russian which she finds a poetic language. She spent time in the eastern part of Ukraine right after the Soviet Union fell where there were many Russians. She later went back and had the opportunity to speak the language in western Ukraine, for her husband's job in the State Department.
Her favorite part of teaching is how the students always surprise and impress her. "I'm just always amazed at how smart [they] are about things, how savvy [they] are and then the insights that [they] bring are just really intelligent, so I love talking about literature," said Mellor. This year, Mellor wants her students to feel successful. "Everything is abnormal…I really hope that by the end of this semester the students in my classes feel like, you know, they learned at least one good thing or they accomplished something good," said Mellor.
Mellor often reflects on her own high school teachers as an influence because they "showed me the beauty of words and music lyrics and just the power that's behind that," said Mellor. She hopes her students learn to be curious. "If there's stuff you wonder about, you know, read about it, look it up, ask questions, find out more. Learning isn't just something that happens in a classroom, it's not just something that happens in high school, but it can go on, you know, way beyond this and you should always be learning because that's what keeps life interesting," said Mellor.
Leave a Comment
About the Writer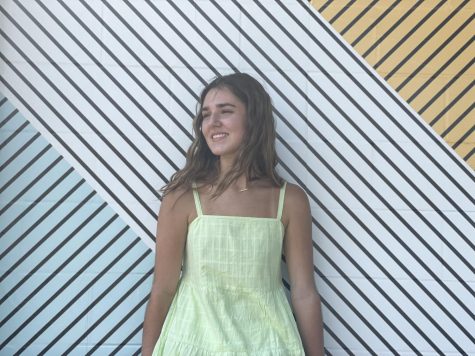 Catherine Smith, Editor-in-Chief
Hey everyone, my name is Catherine Smith! I'm a senior, and the Editor-in-Chief of the paper this year! I joined The Falconer as a freshman and have...