Blackboard is Out, Schoology is In
As student work shifted online during the coronavirus pandemic, schools had to find options to keep students learning over the internet. Although these digital learning tools existed before, they are now much more prevalent. FHS students currently use multiple platforms such as Google Classroom, Infinite Campus, and Blackboard, with additional platforms for more specialized classes. To help simplify the tools students and teachers rely on, a body of teachers and staff from schools across the county voted to adopt Schoology over Infinite Campus to replace the function of Blackboard, which will go offline July 1st. Infinite Campus will retain its purpose for attendance and final grades, but Google Classroom will no longer be supported.
Schoology is a learning management system, designed to better integrate grading, assignments, and content into one system. Unlike Blackboard, it is designed to have easy, robust integrations with Google Drive, making assigning and grading content easier and eliminating the need for Google Classroom. According to Ann Alexander, the Deputy Superintendent's Office Manager, "One of the main things we've heard from parents, students, and teachers is having one single place to go as opposed to multiple places." Schoology also contains other useful features the county was interested in, such as an easy-to-use overlay for elementary students and the ability for teachers to easily use standard-based grading.
According to the contract obtained through a Freedom of Information Act request, Schoology will cost $11,500 to initially set up, plus $5,400 for teacher training over the summer. The county will then pay $33,496.99 for the next year, and then $44,950 annually for the next two years after that, after which the contract terminates. According to Tina Ference, Fauquier's Educational Technology Leader, Blackboard cost close to $70,000 annually. Alexander emphasized that "This is a cheaper product, but also a better product as far as functionality."
Mr. Reynolds, a math teacher, was optimistic about the new platform: "I've been informed it's going to be much more user-friendly. Blackboard was not a good tool for me personally and was very awkward to use…So I'm happy we're making a change. Blackboard has limits and Schoology is not supposed to have any of those." Daniel Shaw, an Earth science teacher at Fauquier High School, was also optimistic: "I don't want to say Blackboard was horrible, but I'm looking forward to a change."
Other teachers, however, are critical towards the change. Philip Nobblitt, an English and photojournalism teacher at FHS, was on the board that chose between Schoology and Infinite Campus and voted against Schoology. He said, "The person who presented Schoology did a much better job with their presentation… I worked in a school previously that had Infinite Campus opened up…I liked a lot of aspects of it that weren't, you know, presented well. I'm a firm believer in keeping things simple and if we've already used Infinite Campus for attendance and grades, then why not open it up so that it is our learning management system. It has the same bells and whistles as everything else, on top of that." Further he said, "because we, as educators in Fauquier County, already use it; We have logins and we have understanding of it." He pointed out that Schoology is yet another system teachers must get used to: "I'm anticipating a steep learning curve."
Another factor causing concern with such online learning tools is student privacy. Many platforms seek the sale of user data as an additional form of revenue. While some platforms have vowed to protect student data, others, notably Google, have faced criticisms and lawsuits in how it manages theirs. In February of 2020, the State of New Mexico sued Google for violating the Children's Online Privacy Protection Act (COPPA). Later in April of that year, two Illonois students filed a lawsuit against Google for allegedly illegally attempting to create face and voice prints of children, CNET reported. Schoology's parent company, PowerSchool, stated they actively protect student privacy. However, they did not respond to a comment request about specific details of their privacy policy.
Vista Equity Partners acquired Powerschool in 2015, and the group's reputation is limited. In 2020, CEO Robert Smith was named in a tax evasion case and paid $139 million to the IRS to avoid prosecution. One of Vista's investors, Robert Brockman, was indicted on multiple federal charges including tax evasion, conspiracy to defraud the United States, money laundering, and destruction of evidence, among others, which law enforcement officials have described as "the largest tax evasion case in US history", CNN reported. Vista also owns many businesses which rely heavily on data collection, such as Solera Holdings, Apptio, Automated Insights, and Gainsight. Despite being owned by Vista, Powerschool maintains the security of student data, regardless of any conflict of interest. Ference stated that "Powerschool has allowed Schoology to continue and maintain the direction they were going in" and added that "We ask our vendors to sign data privacy agreements with our division." Fauquier's data privacy agreement bans the selling of any personal information and the building of any non-educational digital profiles, and restricts the use of "de-identified" information, a common workaround for data collection.
According to Ference "Some teachers have already started training and all of the ITRTs are fully trained." Despite a few teachers having advocated for alternatives, Alexander stated that "It has been met with very positive response and approval." Regardless of what happens however, the ultimate judges will have to the the teachers and students when the return for the fall of 2022.
Leave a Comment
About the Writer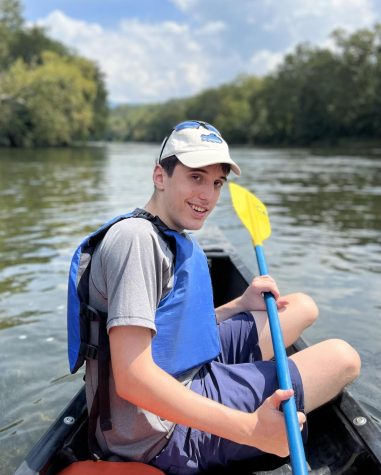 David Achter, Managing Editor
Hi! My name is David Achter, and I'm the Managing Editor. I am a junior and enjoy working with computers, writing about news, and having fun outdoors....