'Mockingjay Part 2' fires up audiences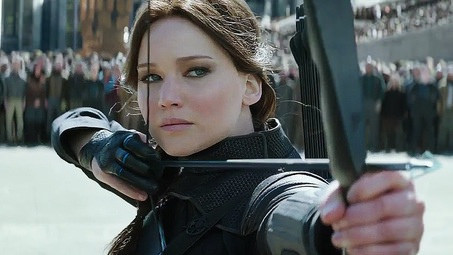 With eye catching visuals, heart stopping action, and gripping performances, Mockingjay Part 2 offers a powerful, albeit lengthy, conclusion to the riveting and widely popular Hunger Games series.
Katniss Everdeen (Jennifer Lawrence) captures the essence of the courageous heroine, uniting rebel forces to revolt against the tyrannical President Snow. Katniss teams up with Squad 451 and some of her closest allies—longtime lover and recently brainwashed Peeta Mellark (Josh Hutcherson), best friend Gale (Liam Hemsworth), and fellow victor Finnick (Sam Claflin)—to unite the districts of Panem and lead the rebellion against the gamemakers and President Snow.
They make their way through streets lined with weapons created by the Capitol towards Snow's mansion. One of the most gripping scenes occurs in the underground sewage tunnels, which reintroduces the horrific "mutts," this time taking form of genetically engineered lizard people. Part 2 gets its intensity with more jump scares throughout than previous movies. However, despite brief exciting moments, the plot drags on through some scenes.
Although Mockingjay's combat scenes are perfectly synchronized, viewers are often able to predict the outcome. Crouching behind buildings seconds before the weapons deactivate removes suspense, as do characters who outrun flesh eating tar that fills up the courtyard and part of the building that Katniss and the rest of her group flee into shortly after. Miraculously, the tar is sucked back into the courtyard after capturing two unimportant soldiers in Squad 451, leaving lead characters unharmed.
Lawrence delivers a phenomenal performance in showcasing Katniss as a powerful and iconic heroine. In times of grief and panic Lawrence brings a strong willed character to the screen and exhibits the leadership that struck hearts in the first Hunger Games. After losing important teammates she is somehow strong enough to lead the battered group through the rest of the mutt—contaminated tunnels.
However, during the group's triumphant march into the Capitol, the overused and confusing love triangle between Peeta, Gale, and Katniss comes onto screen during short periods of quiet awkward moments while the group rests. Katniss, who is trying to help revert Peeta to normal and attempting to jumpstart his memories, turns to Gale for help and receives a few kisses in the process, leaving the audience still wondering what lover Katniss will choose.
Overall, Mockingjay delivers a crowd–pleaser that continues to have exceptional acting by Lawrence, Hemsworth and Hutcherson, while the plot moves foward on bursts of suspenseful moments, bringing a strong, yet lengthy close to the epic Hunger Games series.