Tennis serves up wins in regular season performances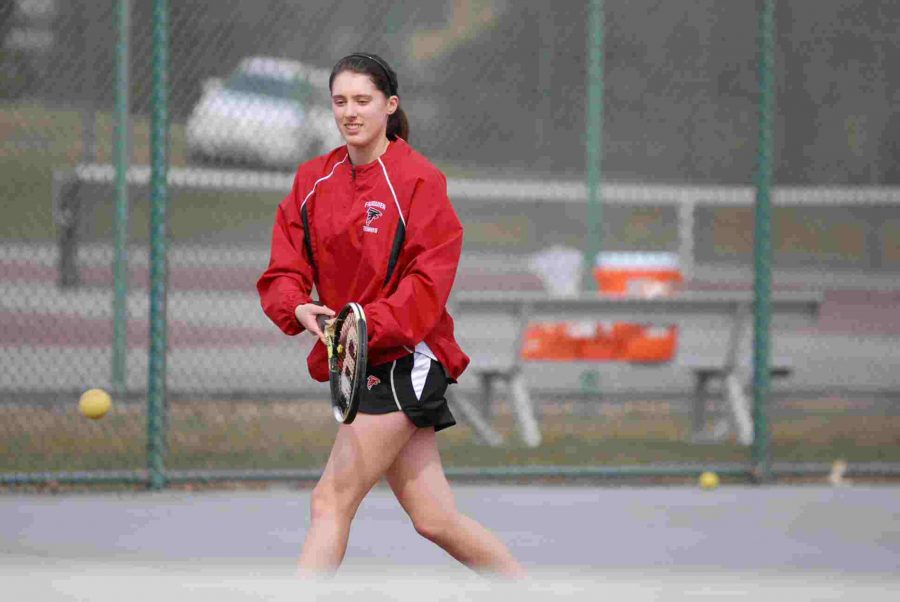 Boys Tennis
The boys tennis team currently stands 4-10, beating Culpeper 6-3 on May 9. The team has struggled with the loss of many strong seniors last year.
"Our team was kind of reset because all of our older players that were good [graduated]," junior Masahisa Takahashi said. "We just had to fill in roles and hope for the best."
According to junior Ben Nesbit, the team has improved physically, but struggles mentally.
"We definitely have the strength and the capability to beat some of these guys, but our mental game is weak," Nesbit said. "If we can just get our heads in gear, we can definitely start winning more games."
The team stands fourth in the conference.
"We've done more running and more cardio buildup, trying to build stamina so we can continue to play throughout matches," Nesbit said. "Getting away from our opponents has really improved, and I like how we're looking [physically]."
The team's game against Brentsville on April 28 was a turning point for many of the team members. In an upset, they beat their opponents 5-4.
"We had thought we had no chance, and we ended up winning, which should have not been possible, but somehow we managed to do it," Takahashi said. "We walked in there and we were lucky."
The team begins postseason play on May 15, facing Freedom, who they lost to twice during the regular season
"It's going to be a tough match," Nesbit said. "I think we can beat them; it just [depends on] whether or not our mentality has grown."
The Falconer went to press before the results Monday's conference game were available.

Girls Tennis
As the girls tennis team comes to the end of a strong season, with a record of 10-2, they currently stand second in the conference. After beating Culpeper 6-3 on May 9, they are preparing for post-season by ensuring their mental game remains strong.
"We have stay focused," captain senior Kelley Violet said. "[We can't] stress each other out; that's the last thing we need."
According to captain senior Rachel Crawford, despite winning 5-4, their match against Eastern View on May 4 was one of their hardest.
"We had some girls coming back from losses," Crawford said. "Our doubles teams managed to pull out with a win, which was a huge break for us."
According to Turner, one of the team's biggest strengths is their perseverance.
"If we're down by a certain amount, we're pretty good at staying in the game," Turner said. "We don't give up if we're down by a lot."
The team also relies heavily on their experience, since many of the players are upperclassmen.
"Combined, we have over 15 years of experience," Violet said. "The team knows how to find the opponent's weaknesses and use them against them."
The team has struggled with injuries, with Crawford out for the season due to a shoulder injury.
"A couple of us are working with sore muscles affecting how we play," Violet said. "Injuries kind of set us back, but we're compensating."
The girls are trying to perfect their doubles teams before conference play.
"Everyone's kind of unsure about things, and we kind of have to figure out who works best with each other," Turner said.
The team will begin postseason play on May 15, going up against John Champe. After placing second in the conference tournament last year, they hope to place first this season. According to Turner, winning the conference tournament would be the perfect ending to a great season.
"All four years that I've been on the team, we've done pretty well," Turner said. "It's nice to know that we can still step up to the plate and do a good job."
The Falconer went to press before the results of Monday's conference game were available.
~katie johnston, features director