Virginia Teachers Go Red for Ed in Richmond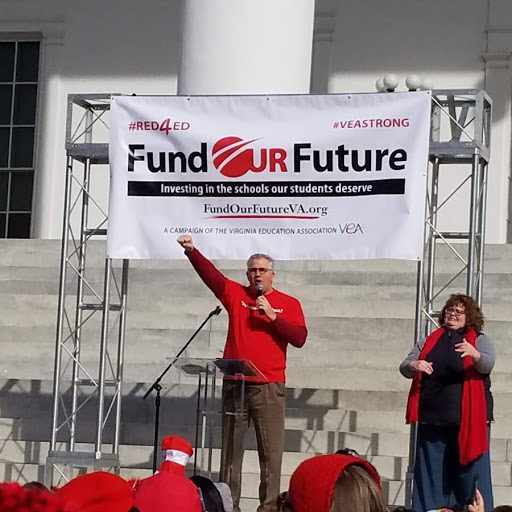 Virginia teachers make an average $51,049, less than the national average of $59,660 according to the National Education Association. Yet, Virginia is among the wealthiest states in the U.S. Inspired by massive teacher protests around the country, hundreds of Virginia teachers decided to take professional leave on January 28 and march in Richmond.
Demands include; restoring funding for public education, increasing teacher pay and providing competitive wages, recruiting and retaining high quality and diverse teachers, help localities address school infrastructure needs and ensuring that all schools have adequate support staff, according to Virginia Educators United.
Superintendent David Jeck and school board Chairwoman Suzanne Sloane along with several Fauquier High School teachers attended. Fauquier county teachers who were at the march were given professional leave mostly thanks to superintendent Dr. Jeck. Jeck gave his full support and was given the opportunity to speak on the steps of the capital.
Among the teachers who attended was English teacher Julie Duggan. "I saw a regression when the recession began in 2008; things were going really well until that point, and I've just seen a gradual decline ever since," said Duggan. "We need to get back to where we were before that point in putting education at the top of our priorities for funding in state."
Librarian Mary Jo Sears commented on the issues in teacher pay that she personally has to face. "I have two master's degrees, I have 25 years experience [and] if I were to go to any other county I would be making a lot more money than I am here." She blames this on the compressed pay scale that Fauquier County Schools have to use. "The school board is doing a good job with increasing our first-year teacher pay and second-year teacher pay to be more competitive among our area and other counties, but the problem is the more experienced you are the pay scales compress [and] the percentage of increase[d] [pay] goes down." She added, "In order to keep the best teachers in this area and in state we got to pay for that"
Duggan had the opportunity to speak to Delegate Webert who is local to Fauquier County and has a son in the Fauquier County school system. She explained to him, "the quality of the educational experience in part depends on the funding of it (…) and that families depend on quality professional staffing at schools and depend on quality buildings and those are worth the money."
The annex has also been a topic of interest when it comes to funding. Several teachers have expressed concern over the building. "We need funding to fix up the annex; that is not an appropriate space for students," said Duggan.
Sears also commented on the issue, "I feel like the conditions we deal with especially over in the annex are deplorable (…) Students should not have to go from one classroom to the next and have a 20 degree difference in temperature, and teachers should not have to work in classrooms that are causing allergy problems." She added that she knows the school tries its best to maintain the issue but doesn't like how we try to put up a good front, and as you walk towards the back of the school you start to see age and heating problems.

Jeck plans to include $8 million in a budget plan, aimed at teacher salaries, that he will present to the school board.