Falcon Fresh Faces
Sean Patten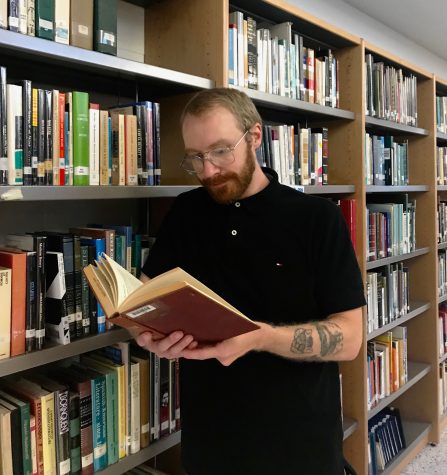 Sean Patten is ready to start a fresh new year at Fauquier High School as an English teacher. He is new to the teaching field and some may recognize him if they frequent Deja Brew Cafe in Old Town where he used to work. However, teaching was always in the back of his mind. Patten used to live in Philadelphia, and that showed him different aspects of life. "I had friends that didn't make the best decisions," Patten said.
Patten used music and songwriting to help his life go in a better direction. "When I put it all into perspective, I ended up making the right decisions," said Patten. Patten also takes part in many art forms. He is a poet and will be a published author in the fall and he is also an artist who repurposes magazines to create abstract collages. Now, Patten has taken over Shakespeare Troupe for Mrs. Duggan. His goal for this year is to create good critical thinkers.
Reza Marvashti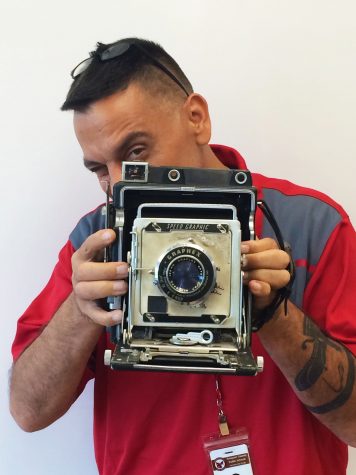 Smile at the camera! New photojournalism teacher Reza Marvashti (or Mr. M as he is commonly called by his students) is ready for a "picture perfect" school year as he joins the Fauquier High School family.
Marvashti went to West Virginia University where he earned a BA in history. Later, he followed his dream to become a photojournalist working for companies such as The Washington Post, The Denver Post, and Freelance Photography.
The most memorable moment during his photojournalism career was during the 9/11 attacks where his photos are preserved in the Library of Congress. Marvashti has also photographed notable figures such as Barack Obama.
Following his photojournalism career, Marvashti decided to enter teaching. Marvashti loved his job, but chose to leave because he "thought the focus of journalism and media was being lost."
Elizabeth Glascock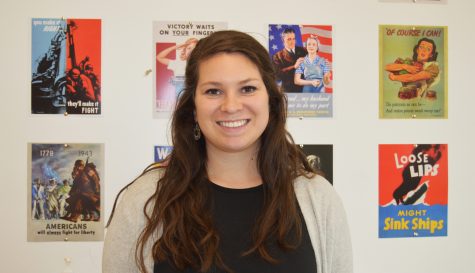 Fauquier High School alumni, Elizabeth "Annie" Glascock returns to teach world history, carrying on the family legacy left by her dad, Robert Glascock.
Glascock says that she had an overall positive experience when she was a student at FHS. Even though, in the beginning, she wasn't the best student; Glascock worked her way up to become a better person.
She says her favorite part of being a teacher is "connecting with students, beyond academics and building relationships, so they know you care about them as humans." Glascock wants her students to know that she is always willing to have conversations about things that aren't about her class.
Jared Zangari
Jared Zangari has a lot in store for his students this year. Some may remember Zangari from Taylor Middle School where he taught Intro to Tech and Shop. He now teaches Building Trade and Electrical classes in the Annex.
As a result of decades working in the construction industry, Zangari brings real-world experience to his classroom. For him, construction fit best.
He now works in the classroom because he saw a place where he could better the world. Zangari understands the value of high school vocational classes as he knows not all students plan to go straight into college when they graduate. "I've gained a real passion to help the future of society," said Zangari. He wants students to know that what he's teaching is important to life.
Karl Buckwalter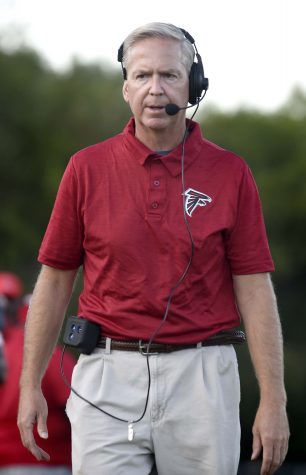 Karl Buckwalter joins Fauquier High School as the new football coach and driver's education teacher. He previously taught at Loudoun County, "it was a great seamless transition," Buckwalter says.
He has been teaching and coaching for 32 years and has lived in Fauquier for 11 years and knows all about the school. This is why he decided to teach here because of his close proximity to the school.
In 1995 Buckwalter became The Washington Posts All-Met Coach of the Year.
He shared that he enjoyed his vacation over the summer with his family. Buckwalter also enjoys listening to all types of music. He wants others to know that he is "passionate about what students are doing."
Sean Robertson
Sean Robertson has become a new addition to the science department as an earth science teacher. Robertson has always loved exploring as a child. Robertson says it's important to know how the world around us works so we can make good choices. Robertson says he was always interested in being a naturalist. Unfortunately, that job is not as prevalent as it used to be. Robertson was a biology teacher's assistant at LFCC before he came here and that is where he got the idea to become a teacher.
Not only is Robertson a teacher but he is also a professional photographer. He shared that both his parents were photographers and they influenced him to become one. Robertson is very excited about this new year.
Colleen Robson
New Assistant Principal Colleen Robson may be a 'fresh face' for some students and staff; but, Robson is not a new face to Fauquier High School."I've worked here before in track and field in 2008 five years before I became an assistant principal," said Robson. Robson was inspired to work in education by her geometry teacher Mrs. Led. "She loved her job, and because she loved her job it made learning fun," Robson said.
When Robson was in college she didn't think her parents would be on board with her becoming a teacher. "I was scared to tell my parents that I was changing my major at Virginia Tech from business to [education] because I thought they would look down on me. But they didn't, and they were very happy," said Robson.
Ahmed Salem
New special education math teacher, Ahmed Salem brings 10 years of teaching experience to Fauquier. Salem has taught at four other schools, Glasgow Middle School, Jeb Stewart High School, Friendship High School, and Freedom High School.
Salem also used to be a limo driver and a truck driver. When asked what he would do if he won one million dollars he responded with, "[I would] build a special needs university."
Salem brings his love of learning and connecting with students to his math class. Salem brings lots of life experiences to his students.