The Purr-fect Classroom Cat
Krishna the cat plants her roots deep in horticulture.
Some may enter the horticulture building expecting to see plants such as flowers, fruits and vegetables. However, what they may not expect is a furry friend who roams the classroom and outdoor perimeter of the building.
Krishna is an eight-year-old Russian Gray cat who joined the FHS family three years ago when a student brought her to horticulture teacher Susan Hilleary.
The student didn't want to take Krishna to the SPCA, and she already took care of many cats. So, she asked Hilleary if she wanted a cat for her program. Hilleary said yes, and that is when she met Krishna.
Krishna was in good health when Hilleary took her in. Both Hilleary and the student take care of Krishna, providing her food, water and shelter.
Krishna enjoys spending time in and outside the classroom. "She comes and goes," said Hilleary. "She has a cat door. Sometimes she stays in and sleeps on students' desks, and sometimes she goes out an explores."
Seniors Haylee Rana and Jordan Procaccini are both in Hilleary's homeroom period and say they enjoy Krishna's company. They met Krishna on the first day of school and have learned a lot about her these past 4 months.
"[She's] very outgoing [and] likes to eat," said Rana. Procaccini agreed, saying Krishna finds other student's food to be the tastiest. "She likes to jump around all the tables and go to each person's food," said Procaccini.
Hilleary also commented on Krishna's "sassy"-like nature. "She is an affectionate cat, but everything has to be her decision."
About the Writer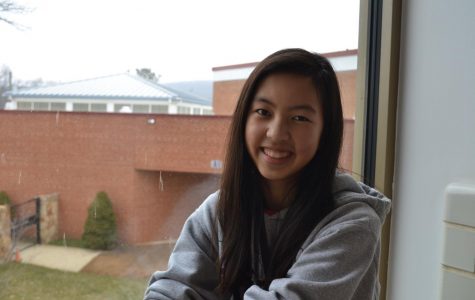 Rachel Singleton, Editor-in-Chief
Hello! My name is Rachel Singleton, and I am a senior at FHS. I have been part of journalism all four of my high school years and have held an editor position...