October 22 Debate: As Biden Communicates his Vison for the Future, Trump Resorts to Lies and Division
At 9:00 p.m. EST, October 22, the final presidential debate began. It was moderated by NBC journalist Kristen Welker. During the debate, former Vice President Joe Biden talked about how he would better American citizens' lives if he was elected president, while President Donald Trump resorted to lies about Biden's policy positions and personal attacks on his family.
At the beginning of the debate, Trump downplayed the severity of COVID-19, saying, "It will go away. And as I say, we're rounding the turn. We're rounding the corner. It's going away." He also suggested that some of the therapeutics he was taking are a cure for COVID-19. According to the New York Times, 828 people died and 75,049 people were infected on the same day the debate was being held. Instead of downplaying a serious public health threat, Trump should take this crisis seriously and communicate the seriousness of this emergency.
On the other hand, Biden appears to take this public health crisis seriously. Biden focused on solutions to deal with the pandemic. He encouraged people to wear masks and said he would follow the advice of the health experts. Furthermore, he said he would invest in rapid testing and give businesses and schools more money so that they could have the necessary resources to reopen safely.
Later in the debate, Trump attacked Biden's family over the fact that his son Hunter Biden was involved with a business in Ukraine, saying, "His son didn't have a job for a long time, was, sadly, no longer in the military service … I hear they paid him $183,000 a month, listen to this, $183,000, and they gave him a $3 million upfront payment, and he had no energy experience. That's 100 percent dishonest." Hunter Biden is Joe Biden's last surviving son, as his other son, Beau Biden, passed away from cancer in 2015. Instead of attacking Biden's only son over working in a business in a foreign country (which Ivanka Trump has done while Donald Trump has been president), Trump should be talking about how he would improve people's lives if elected to a second term.
However, Trump not only didn't offer much of a vision for the future, he actually mocked Biden for speaking about how American's are suffering during this time. After Biden said, "If you're a middle-class family, you're getting hurt badly right now. You're sitting at the kitchen table this morning deciding, 'Well, we can't get new tires. They're bald, because we have to wait another month or so.'…We should be talking about your families, but that's the last thing he wants to talk about." Trump mocked Biden, saying, "That's a typical political statement. Let's get off this China thing, and then he looks, 'The family around the table, everything.' Just a typical politician when I see that. I'm not a typical politician."
On the issue of health care, Trump said he wanted to get rid of Obamacare and replace it with a new plan that he conveniently hasn't given any details about. Trump also falsely claimed that Biden wanted to socialize the healthcare industry and replace private insurance with a government plan. What Biden is actually proposing is a public option that people can buy into or keep their private health insurance plans if they want to keep them. Among other things, the Affordable Care Act prohibits healthcare providers from refusing to cover people with a "pre-existing condition." Pre-existing conditions are any health issues that would make you more likely to become sick, such as diabetes, cancer and chronic health problems. According to a Gallup poll conducted in 2019, 43 percent of U.S. households have at least one person with a pre-existing condition. It is immoral to revoke the protections that millions of Americans depend on in the middle of a pandemic when you have no plan to replace their protections.
During the immigration section of the debate, Trump was asked about his despicable policy of separating children from their parents on the border. When Kristen Welker asked Trump if he had a plan to reunite the kids with their families, Trump said, "We're trying very hard. But a lot of these kids come out without the parents. They come over through cartels and through coyotes and through gangs." Biden responded by saying, "Let's talk about what we're talking about. What happened? Parents were ripped… Their kids were ripped from their arms and separated, and now they cannot find over 500 of the sets of those parents, and those kids are alone. Nowhere to go. Nowhere to go. It's criminal. It's criminal." Trump also claimed that the facilities the children were being held in were "well taken care of" and "so clean." According to a letter written by the late Congressman Elijah Cummings, in 2019, conditions in the facilities migrants were being held in were terrible. Young children were not being given enough diapers. Children were sleeping in cold cells without proper clothing. According to Cummings' letter, one detainee even said that a child was told to drink soup off the floor by a Border Patrol Agent. This all happened under Trump's watch, and he has the audacity to claim that the children were being "well taken care of".
At the end of the debate, both Trump and Biden were asked by Kristen Welker what they would say to voters who did not vote for them in their inaugural addresses. Instead of answering the question, Trump attacked Biden, saying, "But I'm cutting taxes, and he [Biden] wants to raise everybody's taxes, and he wants to put new regulations on everything. He will kill it. If he gets in, you will have a Depression, the likes of which you've never seen. Your 401(k)s will go to hell, and it'll be a very, very sad day for this country." When Biden was asked the question, he said "I will say, I'm an American President. I represent all of you, whether you voted for me or against me, and I'm going to make sure that you're represented."
Election day is on November 3. Our country has a choice to make. We can choose a vision of hope, truth and justice, or we can choose a vision of fear, lies and bigotry. Biden might not be a perfect candidate. For example, he opposes policies such as Medicare for All and a ban on fracking and supported the 1994 Crime Bill. However, Trump goes against the very ideals of liberty and justice that we hold dear. There are third party candidates such as Green party candidate Howie Hawkins, but they don't have any chance of winning. For the sake of our country, Trump cannot get another term in office.
Leave a Comment
About the Writer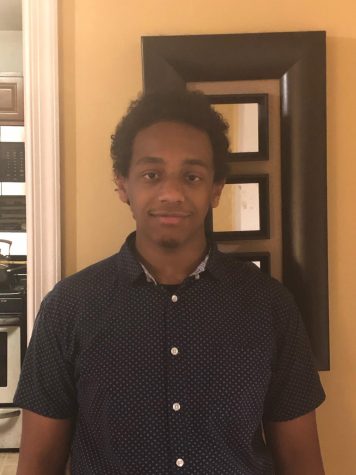 Raeid Ebrahim, Staff
My name is Raeid Ebrahim, and I am a senior. This is my third year on the staff, and I will be continuing my role as the first political columnist of The...