Culinary Class During COVID
At the start of this school year, culinary students were learning virtually, creating a challenge for students learning how to cook. Culinary teacher Rebecca Hale developed many plans to create an inclusive environment for all despite all the changes. "Although learning is different this year and there are educational challenges for students, we are all in this together, and flexibility, support and understanding are key to success," said Hale.
Hale and her students are happy to be back in the classroom for more hands-on learning opportunities. Junior Izzy Kendrik said, "I still really enjoy cooking and preparing the food. We would have to make sure our hands are washed, we are wearing gloves, masks are on at all times and be socially distanced. Through all of these rules though, I have made tons of new friends being involved in this class."
However, culinary students have had to adjust from the chef kitchens at school and working with other peers to being by themselves in their own kitchen. "Previously, I would say that we always have had a maximum of 20 students which is the requirement from the state. I would group five students together in order to perform labs with four groups at a time in the kitchen," said Hale.
In some ways, COVID-19 didn't change the safety requirements that were already in place. "I think that there have been no extra issues due to COVID[-19] because we always have to wear gloves and wash our hands. For events, we have to hand out the food instead of letting them get food themselves which is just for COVID[-19]," said junior Lily Paccassi.
On April 12, the culinary students were involved with the Teacher and Principal of the Year Ceremony. "Helping out at the teachers award ceremony was amazing. I enjoyed serving the teachers their food safely," Kendrick said. Paccassi also enjoyed the event because she got to meet many more new teachers.
This year at the ceremony was a bit different in terms of serving the food instead of the buffet style from years past. However, Hale still appreciated the opportunity ¨to give my students hands-on catering experience and was glad to be asked to involve students in the Teacher of the Year awards ceremony again this year," said Hale.
Although this was their second catering opportunity this school year, they hope to have "more opportunities to provide catering for county events next year. We don't have any more planned, as of right now," said Hale.
Leave a Comment
About the Writer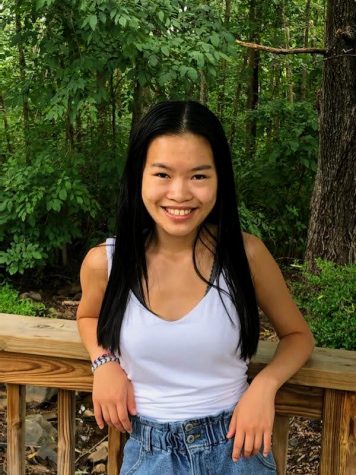 Lily Hayostek, Staff
Hey, my name is Lily Hayostek! I am a junior and I am a Staff Reporter. This is my second year at The Falconer. I enjoy taking pictures and being outdoors....