FBLA Competitors Advance to the National Compeition
Succeeding at States, three members of Future Business Leaders of America (FBLA) will compete virtually at the National Leadership Conference (NLC) in late June. "I do not have details on this conference yet. However, the events have sponsors at NLC, so students who place in the top ten, no easy feat, win a trophy and a cash prize," said FBLA Advisor Karen Chipman.
Placing second in event planning at the State Leadership Conference (SLC), sophomores Marrissa Camarca and Annamae Lawerence will advance. They were "nervous about competing," said Camarca, but used it as an opportunity to get out of their comfort zone. "This was my first year competing for FBLA, so I wasn't expecting much out of it. It was very exciting hearing we are able to move onto Nationals," said Lawerence.
Placing third in journalism, senior Rachel Singleton will also advance with hopes to place at NLC. "Now that I have another opportunity, I want to give it my all for my senior year," said Singleton. She is passionate about her topic and is positive about NLC.
Additionally, junior Bindi Patel and Senior Nolan McEachin placed in the top five but will not be advancing. "Overall, I thought it was fun because the organization did a great job of trying to make it as 'normal' as possible. They held virtual award shows, had speakers and more. We also got to choose what time we wanted to compete which made it easier to work into our schedule," said Patel.
All 17 FBLA student competitors qualified for the SLC on March 8 after competing at Regionals. "There was less competition this year at the Regional level, but the FHS students studied and performed well. I am so proud of each of them," said Chipman.
SLC started with an Opening Session on April 12 and ended with the Awards of Excellence on April 24. However, students took a required test on Friday, April 9, for their events. Sophomore Evie Goetz was the only student doing a performance event through Zoom on April 19. "I expect the students to do their best," said Chipam. "I do not require a certain number of hours or collaborative preparation. Each of the events is so different; it makes it difficult to pull them all together to prepare. I simply tell them that they will get out of it what they put into it."
Throughout the two weeks, participants attended a variety of workshops and events over topics like communication and listening, workplace professionalism, volunteer work and collaboration and conflict resolution. "With it being virtual, it was a lot more difficult to engage with the conference and really get that same experience that made states so enjoyable in the past. However, I had fun regardless, and I am happy I got the opportunity to be part of the conference," said Singleton.
Competitors used the conference site on the WHOVA app, which included photos, exhibits, polls, session Q&As, announcements and network messaging. The virtual format doesn't allow students to spend the weekend in Reston or meet and become closer with other students. "It is definitely difficult to get the full effect of the conference in a virtual format…Also, the "dress for success" experience is missing," said Chipman.
In addition to NLC qualification, FBLA will have three regional officers juniors Tayte Mills, Lily Paccassi and Mimi Benjelloun and two state officers Tayte and freshman Caden Mills. All besides Tayte, who is Region President automatically making him State Vice President, will be assigned positions later. "So our chapter will be involved in decisions and planning beyond the local level. We do more than compete in FBLA. We offer opportunities to participate in community service, social gatherings, field trips, fundraisers and more," said Chipman.
Leave a Comment
About the Writer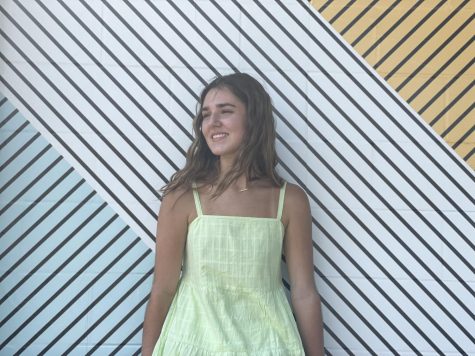 Catherine Smith, Editor-in-Chief
Hey everyone, my name is Catherine Smith! I'm a senior, and the Editor-in-Chief of the paper this year! I joined The Falconer as a freshman and have...