FHS Senior Runs for Board of Supervisors
Senior Raeid Ebrahim has recently announced his bid for the Center District seat on the Fauquier County Board of Supervisors. The Center District seat is currently held by Kevin Carter. Ebrahim has expressed his passion for ensuring that Fauquier County remains a great place to both live and raise a family for future generations.
Ebrahim describes his decision to run, saying, "I made my official announcement [through] the interview with the Fauquier Times on February [7], but I had been thinking about it a couple of months before" He stated that his focus would be on "…education, housing, and economic development." Ebrahim believes that investing in education is crucial for providing great opportunities for kids and ensuring a better future for children.
Ebrahim has also expressed his support for increasing teacher salaries in Fauquier County. He says, "I definitely, am a strong supporter of a better well funded education, I think it provides a lot of kids with great opportunities and is definitely a great investment in our children's futures… If I get elected one of the things I would support would be increasing teacher salaries."
Ebrahim has chosen to run as an independent. He expressed his reluctance to tie himself to one party and instead wants to focus on the issues and solutions.
When it comes to economic development, he has a cautious approach. He believes that development projects must benefit the citizens of the community. Ebrahim believes that Fauquier County is unique in that it has a lot of open spaces, and preserving its small-town environment is vital.
Ebrahim also expressed his opposition to the Amazon data center but acknowledges that it would be a Town Council issue.
Ebrahim's bid for the Center District seat has been driven by his passion for the community and his desire to serve the people. He believes that by focusing on the issues and solutions, he can make a positive difference for the citizens of Fauquier County.
Leave a Comment
About the Writer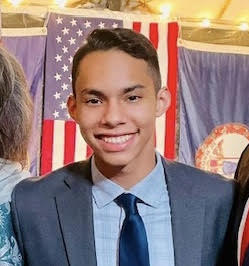 Angel Alvarado, Staff
Hi! My name is Angel Alvarado and I am a senior at FHS. This is my first year taking journalism. I used to wrestle and play soccer. I like to read, listen...