Black History Month Appreciation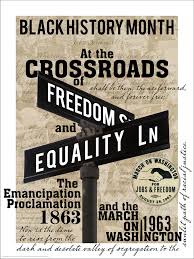 Black History Month is important because it reminds us to appreciate our ancestors that fought for our rights. We are blessed to have a month dedicated to impacting events in history. It started off as "Negro History Week" and transcended to the whole month of February. This month is a step up from the measly week we used to have. It feels so good to see black citizens now treated equally. For at a time, they were considered property and nothing more.
This year's Black History Month is very important because it is the 400-year anniversary of when slaves were first brought to America. The events that took place so many years ago shouldn't be censored, but rather learned from. America should be grateful to the men and women who fought for freedom and desegregation for a long time. It is thanks to them that people of color now have to same rights as any other U.S. citizen. Realizing how far the U.S. has come in achieving equality for all puts into perspective of the sacrifices abolitionists made. This new generation has now been handed the torch of equality.
The glory days aren't here yet, though. People are still fighting for peace and equality, and they will never throw in the towel because they are fighting for what this country needs: unity. Americans are taught to love and accept all no matter their differences. To never see color, only see the heart: All people bleed, cry, and feel the same regardless. Peoples' lives have changed for the better because of past abolitionists who valiantly sacrificed their lives so all can be equal. If it weren't for their determination to have racial equality, America would never have known how to love each other despite color differences.