First Day of School: Student Reaction
The rising sun shines on the Fauquier High School parking lot as cars pull in from all directions. Students leaping from buses and running from cars greet each other with energy for the new school year. Noise fills the halls as students reconnect with friends before the bell ushers them into separate rooms. However, this isn't how students found themselves beginning this school year. 
Although online school wasn't the original plan, students found the day enjoyable. "It has a different feel when you're home and online than actually going into school. The good part is, you can be there even if you're going somewhere else. The bad part is it's harder to focus and stay on track when it's not hands on learning," said senior Reagan Smith.
Throughout the day, students and teachers experienced expected technical difficulties. For some students, internet and device issues made it hard to be "in class."  Others had trouble locating information. But students looked to the bright side, "with everything being new and different we all were working together to figure out what worked and what didn't work in each class," said freshman Ellie Smith.
Being at home presented difficulties, but junior Alyssa Robson liked working from home and not having to get dressed and ready for a school day, "It was very chill and low stress."  Junior Riley Lynch added that she liked the ability to have an hour lunch break in her own kitchen.  
Interacting with people and getting into a routine gave some students a sense of relief. Junior Abby McGregor said, "for me, my favorite part was having something to do and people to listen and talk to because we haven't gotten to do that in a while." Many students enjoyed the flexible schedule and ability to do things on their own time frame.
The biggest drawback for students was the inability to socialize like they used to in the classroom. Teachers encouraged this among students, but it was hard to have multiple mics unmuted at once and understand each other. "I like being in the comfort of my own home, but I feel like I'm more engaged when I'm in the classroom. It's weird not being able to talk with friends, but it makes it easier just doing it wherever we want," said senior Nick Walsh.
As for teachers, "they are giving us time to adjust and aren't assigning hard work right away," said Robson. Many others added that their teacher's energy was contagious, and they knew that they wanted to be there. "The teachers were doing a good job of making everyone feel a little bit better about the bad situation by letting us know that we aren't alone and we are all going through it together," said McGregor.
The reaction ranged from approval to sadness for many seniors and freshmen. "It's kind of weird because I don't get that high school experience with being a senior and all. But, I'm happy that they were still able to come up with something because honestly, they have all worked really hard to get us into school," said Reagan. 
Freshman Eoin Lynch described the day as "easy because we had a soft opening. I wasn't stressed. I thought teachers would force a lot of work on the first day but they did not…I feel very pleased that my first day of high school was a success." Ellie added, "even though it's not the way I expected to start high school it's kind of cool knowing that this has never happened before and that it's going to be in future history books."
Leave a Comment
About the Writer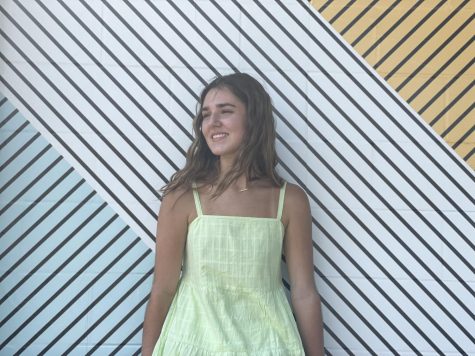 Catherine Smith, Editor-in-Chief
Hey everyone, my name is Catherine Smith! I'm a senior, and the Editor-in-Chief of the paper this year! I joined The Falconer as a freshman and have...