It's been a year, where are the Bayview Four now?
It has been a year since the original Bayview Four, Bronwyn Rojas, Nate Macauley, Cooper Clay and Addy Prentiss, a group of former high school students, were framed for the murder of Simon Kelleher. Frustratingly, I watched students try to recreate "One of Us is Lying" character Simon Kelleher's "About That" app, the major gossip platform where dark secrets were exposed at random, and fail. It was keeping me on edge as I waited for one to work and finally "Truth or Dare" came along.
In Karen M. McManus's "One of Us is Next", the sequel of "One of Us is Lying", no one can be trusted. As I read the book, I could feel the agitation coming off the pages. At times it even made me paranoid while I was reading, alone, in my room. "Truth or Dare" is a game that starts as payback, but suddenly turns deadly. I enjoyed the suspense of this novel and the mystery of it because I would think one thing was going to happen, but it wouldn't.
I couldn't put down the novel, I stayed up late until my eyes blurred reading because I couldn't stop reading until I figured out what happened next. Once one mystery was solved, another arose, this enticing endless cycle of mysteries kept me entertained.
Maeve Rojas, the younger sister of one of the original Bayview Four-Bronwyn Rojas, and characters Knox Myers and Phoebe Lawton are the main targets of the game. Their story line kept me wrapped around their finger. I never suspected certain things to happen and the endless amount of villainy was unbelievable.
Secrets kept getting uncovered and at times, I even found myself turning on characters I originally thought were "good". Personally, I think this reinforced the main slogan of the book, "always choose the dare". My favorite part of the book is the end, when the person behind the game was caught. It was so relieving, I found myself letting go of the tension I hadn't realized I'd been holding in. Friendships were re-bonded and that was super heart-warming to me.
McManus is one of my favorite authors. I love the way she creates her books with a mix of drama, suspense, mystery and romance. She almost creates her own genre, perfectly exemplified through "One of Us is Next." She does a fantastic job of keeping her readers on the edge of their seats and wanting more. If you like exciting, suspenseful books, then this book is for you.
Leave a Comment
About the Writer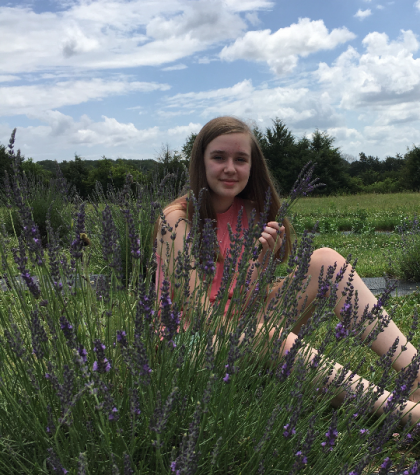 Erika Harrington, Junior Sports Editor
Hello! My name is Erika Harrington, and I am a freshman. This is my first time as a junior sports editor for The Falconer. I joined journalism this year...