Lamper Brings Excitement to Softball Team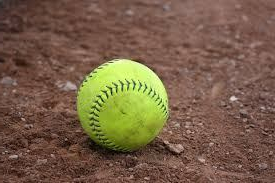 This is a year filled with changes for the Fauquier Falcons. As spring sports begin to warm-up, the Fauquier High School girls' softball team has had a chance to meet their new head coach. Erika Lamper will be replacing Mark Ott as head coach this season, both returning alumna and teacher at Fauquier High. After a fantastic softball season last year with Lamper as the assistant coach, Coach Ott resigned leaving an empty position here at FHS.
After graduating in 2005 from FHS playing softball, coached by Ott, she moved on to play softball for four years at Seton Hill University. There she earned a degree in 2009 in marketing and human resources. In 2013, Lamper came back to teach and coach here in Virginia. After teaching at Kettle Run she took a job at FHS where she teaches personal finance and sports business. It is currently her second year at FHS.

Lamper stated, "I am very excited. This is a great group of girls. They work hard outside of the season too." The teams have already begun workouts and conditioning and many are excited to see what Coach Lamper can bring to the team. "They are definitely working hard, very motivated, and a very positive group." When asked what softball meant to her, Lamper said, "Softball is more that just a sport. It helps you develop as a human being. It allows you to become part of the community." For Lamper, softball has taught her many life lessons, "It creates a well rounded person and opens up values you can't learn in the classroom." Her goal for this season is to get the team to states. "They have been there before and I think they can do it again." Lamper said, "Having fun is the first priority. I want them to want to be there. I don't want to force anyone. And take advantage of being on the team, you won't have that same experience again." Lamper loves the encouragement and "good support system[of the team], they help build each other up. You won't always have 12 others who have your back all the time. Ott taught Erika Lamper since she was about 11 or 12 years old in both travel and at a high school level. He added, "I was ecstatic to have someone who played and knew the field come back to teach the girls. I have all the confidence in the world she will keep it a successful season, if not make it better."