White Wall Band Prepares to Release Their Debut Album
The idea to start the White Wall Band was a result of a conversation between seniors Jefferson Uzzle, Jude Rittenhouse, Zac Moylan and Johan Dronsick in Jacob Preli's chemistry class last spring. Less than a year later, they have plans to release an album by the early summer of 2023.
"I've known Zac, Jude and Jefferson since elementary school… I came down to Mr. Preli's one day and they were all talking and said 'we should start a band'. I had been playing guitar for a little bit, so we settled on starting a band just because we thought it would be fun," says Dronsick, who plays lead guitar.
Uzzle, Moylan and Rittenhouse began learning to play new instruments for the band, with Uzzle on drums, Moylan on rhythm guitar and Rittenhouse on bass. Since being formed, the group has grown to include Aurelius Mueller on keyboard.
The name "White Wall" was inspired by a karaoke duet performed by Moylan and Rittenhouse when they attended a Young Life camp their freshman year of high school.
"We were going to do Eye of the Tiger, and they asked what our name would be, and Jude, without hesitating, just went 'White Wall'. But that was ninth grade, so then when we were making it now we were like 'Oh that'd be sick because it has a story behind it'," says Moylan.
"The first thing I looked at was a wall… it was white," says Rittenhouse.
Rittenhouse names their biggest inspirations as "Led Zeppelin and Pink Floyd" and Uzzle describes their style as "classic rock, but progressive classic rock." The band meets two to three times a week to practice in Uzzle's attic where they work on new music for their upcoming album, a collaborative process with Dronsick as the "main song writer", according to Rittenhouse. Dronsick describes the vibe of their album as "space rock" and says it will be called "State of Mind." They hope to release it on Spotify and make CD's if possible.
"I play guitar a lot…We will be talking about a feel that we want to go for, so then when I'm at my house I'll try to create something then. But usually one of us will come up with an idea and we will take it into Jefferson's house…and we will all just talk about it or modify it and make something out of it," says Dronsick.
According to Dronsick, this process is one of his favorite parts of being in the band. "You listen to music a lot and you get to play music, but it's a whole different thing to make it. There's that pride of 'it's yours' as well," Dronsick says.
The progress and the people, in addition to the music, are what Rittenhouse values most about the band. "I like making music. Especially looking at where we started and how much we've improved since then. That's been great to watch. And also just hanging out, those are like my best friends," he says.
Moylan also emphasizes the positive change that being in the band has been for him. "It is fun to just write songs and be able to play an instrument in a band now. That's not something I thought I would be doing last year," he explains. For Uzzle, it's the "shenanigans" they get up to that he loves most.
While the band hasn't yet played live, they might perform in the school talent show, and once they finish their album, they hope to begin gigging. "Once we finish the album we'd like to start doing open mics and just playing wherever we can," says Uzzle.
Leave a Comment
About the Writer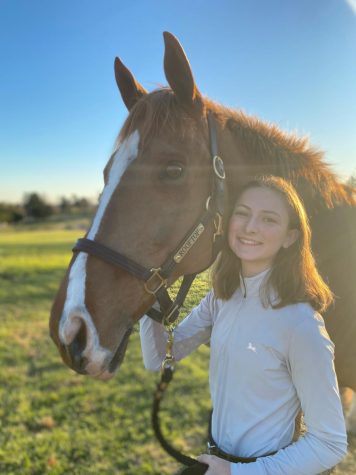 Ali Patusky, Features Editor
Hi! My name is Ali Patusky and I am a junior. This is my second year writing for The Falconer and I am the Features Editor. I write for a local magazine...