Students Participate in Quad Tandem Bike Race
On July 15, FHS seniors Colin Ashby, Zac Moylan, Jude Rittenhouse and sophomore Sam Pacassi will depart on an eight day, 500 mile bike race through British Columbia, Canada – on one bike with 4 seats. They make up Team USA and will compete against five other teams from New Zealand, Great Britain, Canada and Brazil in the Quad Tandem World Championships.
Ashby and Moylan discovered the race when doing a project on an 'obscure sport' for their Sports Marketing and Entertainment class. At first, they filled out the application to compete as a joke.
"We filled it out as a joke, but then Sam Pacassi decided he was going to email them, and they [the organizers] emailed us back, and then we got on video call, and it all just started getting pretty real pretty fast…It just seemed like something we couldn't really pass up," says Moylan.
Since then, the team started a GoFundMe to cover expenses such as plane tickets, with the goal of raising $10,000. Any money raised beyond this goal will be donated to WIRTH, the foundation the race is raising money for.
WIRTH is an organization that "supports mental health counseling and therapy for those who cannot afford it" by selling hats, according to their website. The first hats sold by Ben Miller, the founder of the company, were to honor the death of his friend, Jakob Wirth, who committed suicide in 2014. Three months before his death, while the two were studying together in their master's program, Wirth had shared with Miller that he wanted to start a hat company. Miller fulfilled this dream for him by designing and manufacturing hats, which he then distributed to the close friends and family of Wirth following his death. When another close friend of his, Phillip Altenburg, committed suicide in 2017, Miller decided to begin selling the hats again, hoping to spread the message that mental health struggles are normal and that getting professional help isn't something to be feared or looked down upon. WIRTH has sponsored over 6,000 counseling sessions to date, and they hope to sponsor 10,000 more with the Quad Tandem World Championships as a fundraiser.
The members of Team USA are, as Moylan says, "proud to support" the cause.
"Mental health problems are all around you, and everybody is going through their own thing, so it's just good to know that I can do something about it and help them get through," Pacassi adds.
In order to prepare for the race, the team has been practicing on a two-person tandem bicycle, working to build up their stamina for the 50 miles they will have to bike each day as they travel from checkpoint to checkpoint. Learning to ride the tandem bike was an adjustment at first for the team.
"When we first got on it, it was difficult to get going. There's a lot of coordination. The back person has to lean the way that the front person is leaning. But once you get the hang of it and get commands down for switching gears and stopping and everything…it's so fast," says Rittenhouse.
According to Ashby, the team won't be able to ride the four-person tandem until two days before the race, as it is currently being made for them.
Rittenhouse has a positive outlook on the situation regardless: "Concerned? Not really…I think we'll be able to get it. If we don't, we'll just fall a few times and get back up, but with our experience on the tandem bike it'll be fun either way," he says.
The team's journey can be followed along with on Instagram @usa_quad_tandem_team, and the race will be featured on the YouTube channel of DownieLive. Additionally, it will be documented by Emmy award winning cinematographer Adam Miller. In order to support the team, Moylan says "just getting the word out" is "important…It's Team USA, not Team Fauquier, and we can make this as big as we can."
Leave a Comment
About the Writer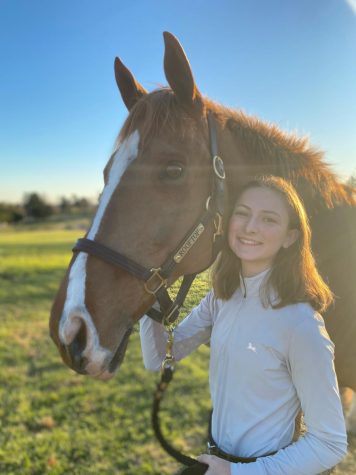 Ali Patusky, Managing Editor
Hi! My name is Ali Patusky and I am a senior. This is my third year writing for The Falconer and I am the Managing Editor. I write for a local magazine...