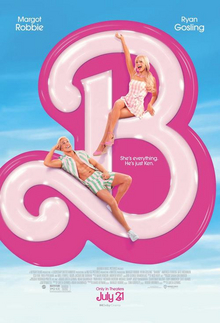 If you've ever owned a Barbie, you know that she has a very impressive resume. Barbie can be anything from a world famous popstar to an astronaut floating in space; whatever she puts her mind to, she can achieve. The new movie "Barbie," directed by Greta Gerwig, sheds light on toxic masculinity and feminism while simultaneously making you laugh.
The story is set in "Barbieland" where all things are pink and perfect; all the Barbies break out into perfectly choreographed song and dance at the end of their very full Barbie day. It's safe to say this movie has just a hint of women empowerment. This movie paid great attention to the details of the reality we live in today as well as of playing with Barbie dolls. The acting in this movie is on point, with many easter eggs and visual references of the many dolls Matel, the company that introduced Barbie into the doll market in 1959, has created.
When the idea of a Barbie movie is brought into the cinematic world, there are many ideas you could roll with. Gerwing starts out the feminist film by showcasing Barbie's morning routine, slowly diminishing society's perfect perception of beauty. Barbie blurts out, in the middle of their seemingly flawless dance bash, that she's having thoughts about death. Although strange anomalies occur more frequently as the movie progresses, her friends don't bother to bat an eye until Barbie visits the outcast doll to help her. This "Weird Barbie," is a Barbie who was "played with too hard" by her owner, resulting in her jagged haircut and marker all over her face. With the fears that exist in the real world happening in Barbieland, Barbie ventures out to try and understand her emotions. Her trip to the real world was surprisingly interrupted by Ken hitching along for the ride.
The Kens of Barbieland are portrayed in a lovesick, puppy-eyed sort of way, living their lives based on the Barbies' wants and needs. Since Ken took it upon himself to go with Barbie on her mental health journey to the real world, he steps into the patriarchal society and gets a taste of how life could be for him when he goes back home. Whilst Ken is on an ego-high, Barbie realizes that the poisoning culture of the real world is based on the upkeep of men. When she finally makes it to Matel to discuss her concerns for her malfunctioning body, she's appalled as the whole board of directors were men.
While Ken is making plans for his Barbieland take-over, Barbie finds that the human mother that's playing with her in the real world is having depressing thoughts because she is reminiscing about the time she and her daughter played with Barbies. When they meet, they have deep intellectual talks about womanhood and society norms. Barbie and Gloria (the mom who is playing with Barbie) meet up and try to find a way to take back Barbieland from the ego-filled Kens'. Their elaborate plan works and is also quite hilarious at some points. Barbieland is restored and Gloria and Sasha's (Gloria's daughter) relationship is resolved.
"Barbie" is a practical outlook on today's society and how the two different genders can coexist with compromise on both sides. The overarching theme of Barbie is targeted towards women of all ages, but, on a deeper emotional level, there are some lessons for patriarchal men of today's society and their standards for women, encouraging watchers to have an open mind.