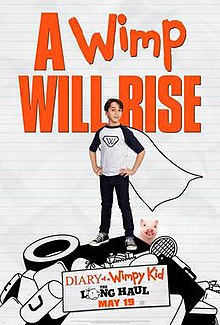 "Diary of the Wimpy Kid" is a famous book series written by Jeff Kinney. A few of his books have been made into a movie; the fourth movie is the worst. The fourth movie, "Diary of a Wimpy Kid: The Long Haul," was released on May 19, 2017; many who love the book series along with the three other movies were really excited to watch this new movie.
When this movie came out, there were a lot of negative views on the movie and cast. Those who've watched a "Diary of a Wimpy Kid" movie knows the original cast and likes them; in this new "Diary of a Wimpy Kid" they replaced everyone for new characters. Because they revamped the entire cast it ruined the entire movie; Greg Heffley is played by Jason Drucker who looks much younger than the former Zachary Gordon who was the original Greg Heffely. The person cast for Rodrick Heffley doesn't even come close to the original character. The idea of making a fourth movie and not including the original cast makes this movie not worth anyone's time.
The humor in this movie is terrible; unlike the original where it was entertaining and funny this movie wasn't funny at all and was very boring to watch. In previous "Diary of Wimpy Kid" movies Rodrick and Greg did not have a phone; that changed when Greg's parents got him a ladybug phone that only calls home and the police in the movie "Diary of a Wimpy Kid: Dog Days." In this movie Greg and Rodrick have modern day phones which doesn't match up with the storyline; this was an addition that makes no sense at all and shouldn't have been included.
"Diary of a Wimpy Kid: The Long Haul" movie is not to be recommended to anyone who loves the original movies.