Not Your Traditional Friday Night Lights
On Wednesday night, the FHS football teams participated in the first of a 10 week league competition against six rival high schools. "This is a new 7 versus 7 (7v7) league, and we are very excited to be in it," said Head Football Coach Karl Buckwalter.
Fauquier County's public high schools are hosting these events with teams from Culpepper, Warren County and Skyline. Seven players from one team face off against another seven players, with a total of 14 people on the field. Each team will play once a week, usually on Wednesdays or Saturdays, at a various times between 6 and 8 p.m.
Fauquier has three teams participating, one JV and freshman team and two varsity teams. The FHS JV and freshman team includes eighth graders from Taylor Middle School and Warrenton Middle School. Before each competition, players will go through a health screening to make sure that they are eligible to play.
The league is focused on passing which means the quarterback has to pass the ball and cannot make any runs. They are also using a one hand touch method, meaning that if someone is tagged or touched then they are down. "This is the first competition type atmosphere we have been able to participate in since last season. We are very excited for our players to get back to competing and having fun in a team theme," said Buck.
The scores from the games against Liberty were: FHS JV and Freshman won 32-31, Varsity A lost 28-22, and Varsity B won 38-9. "I thought it went pretty well considering everything that was going on," said junior Luke Thomas.
The players agreed that they were ready to be back on the field playing the game they love. "My favorite part of the game was when I caught the touchdown pass in the back of the endzone. I think we all hustled and all went 100 percent, and that showed that we can fly around and make plays," said senior J.T. Diehl.
Although they had fun, players mentioned they could improve in areas of communication and teamwork in running drills. "We know how bad this virus is, but I feel that highschoolers need sports. They teach many life lessons and create unforgettable bonds. It's just crazy to me that at one point I thought I would never step out on that field on Friday night in front of my whole school," said Diehl.
Leave a Comment
About the Writer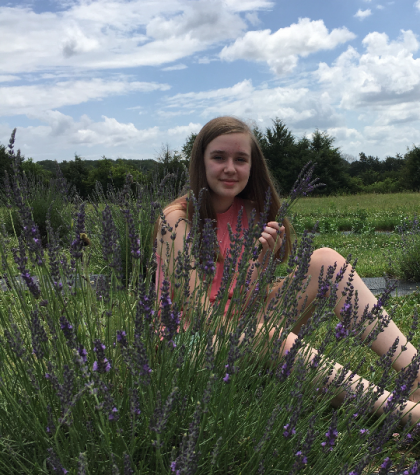 Erika Harrington, Junior Sports Editor
Hello! My name is Erika Harrington, and I am a freshman. This is my first time as a junior sports editor for The Falconer. I joined journalism this year...