Morgan's Message Ambassadors Start a Chapter at FHS
Working together, these leaders hope to destigmatize mental health by involving the community and educating student-athletes.
Juniors Ellie Solms and Marley Oare, Ambassadors of Morgan's Message (M.M.), are starting a M.M. chapter at FHS to bring awareness to mental health and supply tools and resources for student athletes. "This chapter is about bringing people together and addressing something that's not often talked about in the athletic community," said Oare.
M.M. is a group working to eliminate the stigma and to equalize the treatment of mental health in athletes. Their mission statement is "to expand the dialogue on mental health by normalizing conversations, empowering those who suffer in silence and supporting those who feel alone." By sharing Morgan Rodgers' story, they want "to provide a platform where others feel safe to share their own [stories], catalyze change within the mental healthcare systems and foster a community for which tomorrow always exists," from a post on the M.M. Instagram.
After injuries and unhealthy team and coach conditions, Solms and Oare struggled with their own mental health. "It felt like it was me against the world…It [Morgan's Message] has given me a platform to talk about something that has impacted me immensely and promote change. It has given me a voice," said Oare.
They decided to become mental health advocates to change the way mental health is viewed by the public and let other athletes know they aren't alone. This is their way to honor Rodgers, better their community and improve personal health. "It took a long time for me to realize strength wasn't just being "tough", but being able to ask for help," said Solms.
The girl's experiences in sports have left them educated about the mental and physical fatigue presented when trying to balance too much pressure at once. "The human body and mind are so tightly intertwined, that it is impossible to have one without the other, but so often in sports we push our bodies so far it can be detrimental to our minds," said Solms.
Through M.M., Solms hopes "to create an environment where every athlete has an effective mental health outlet." Oare wants to use this platform to help athletes "know that having mental health struggles does not make them weak or any less of an athlete. The culture is to toughen up and ignore it. This causes us to bottle it all up for far too long, only making things worse."
The FHS M.M. chapter will be holding virtual meetings, the first is taking place on Wednesday, October 18 at 1:30 p.m. Quentin Jones and CoraMaria Acebron-Tolosa are the faculty advisors. To join the FHS M.M. chapter, DM @fhsmorgsmessage on Twitter or Instagram to start getting updates. "Morgan's Message is dedicated to one of the most incredible people I got the privilege to know, and I couldn't be more excited to bring her message to Fauquier!" said Solms.
Solms and Oare are currently working with M.M. to develop activities and awareness projects to create change. Some of these may include a "9 for 9" event (signifying Rodgers number), fundraisers and mental health workshops. They hope to express the importance to the community that "this is so much more than just another school club. The more people involved, the more change we will be able to make," said Oare.
Leave a Comment
About the Writer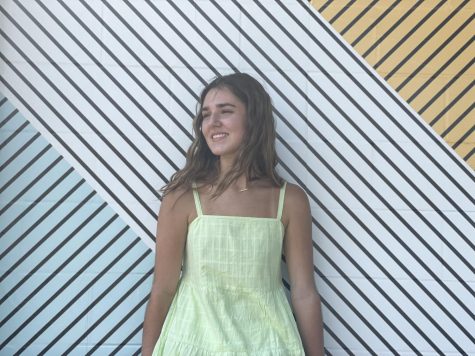 Catherine Smith, Editor-in-Chief
Hey everyone, my name is Catherine Smith! I'm a senior, and the Editor-in-Chief of the paper this year! I joined The Falconer as a freshman and have...