Little Nightmares II: A Game of Suspense and Intricacy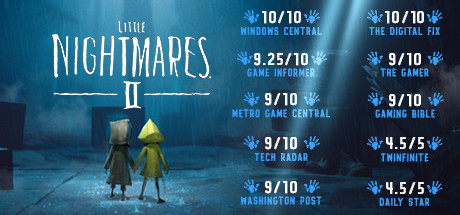 Little Nightmares II is a suspenseful, creepy game, and the third installment of the Little Nightmares Series. Little Nightmares II came out on February 10 and can be found on the Steam store. It is already a candidate for one of the best horror games of the year.
If you are unfamiliar with the Little Nightmares Series, it is a suspense, horror, puzzle game. In this game you play as a child named with a paper bag hat called 'Mono' who has a companion, your partial guide in the series named 'Six.' Six is also the character you play in the other two installments of the game, Little Nightmares and Very Little Nightmares, which is an app game.
The entire series has an overarching lore that is equal parts terrifying and interesting. While playing the game, the lore isn't the biggest thing and you can get through it without knowing every intricate detail, however, if you take the time to watch a video about the lore, it adds to the gameplay just that little bit.
The basic plot of this game is about Mono and Six finding the source of a transmission in this place called 'The Pale City' where even the buildings are bending from the sheer power of the transmission. Throughout the levels, there are little collectibles like tiny transmitted shadow children and hats, my one saving grace.
When it comes to actual gameplay, the majority of the puzzles are very intricate and fun to solve. With the combat system in the game though, it does lack in points. Majority of the system is based on timing and when the game changes perspectives it can get annoying trying to find the correct timing with hits. This causes the player to die frequently, sadly the second you get the timing down it can be easy rolling from there.
Design wise the game is magnificent and chilling. The design of characters and setting have this suspense to them that constantly puts you on edge, but the amount of detail put into everything makes it beautiful in a very twisted way.
Little Nightmares II is an amazing game to play that keeps your attention like a moth to a lamp. The gameplay is lovely even in the areas that are harder to pass, it never gets boring. The game is worth the play in the end with how incredible the experience to play it is.
Leave a Comment
Thanks for reading The Falconer. We're happy to provide you with award-winning student journalism since 1963, free from bias, conflicts of interest, and paywalls. We're able to continue with the generous support of our local community. If you're able, please consider making a donation. Any amount is incredibly helpful and allows us to pursue new and exciting opportunities.