Best Ice Cream Spots around Warrenton
I scream, you scream, we all scream for ice cream. The Route 29 corridor through Fauquier county offers plenty of options for students. Among the most popular of these are Carousel, Moothru, and Effee's. While they all offer excellent ice cream, each differs in various ways.
Carousel is a beloved restaurant in Warrenton that attracts customers for several reasons. Their location right outside of Old Town Warrenton is a point of familiarity, and their outdoor seating, delicious ice cream, and classic meals and desserts provide a unique atmosphere compared to other restaurants. According to senior Megan Rude, who has worked at Carousel for several years now, "We have a very strong connection with our customers, it's very community-based."
It is not uncommon for the ordering line to stretch well into the adjacent parking lot in the evenings while the patient patrons take in the oldies music and vintage Americana. The restaurant stays connected with the community through its social media presence where the Flavor of the Day is posted. All and all, Carousel creates a sense of community and fun that makes it a popular choice for customers.
The highway-side restaurant Moothru, in Remington, dishes out scoops and pints while also deploying a mobile ice cream truck through various locations in the county. What makes them different is their focus on locally sourced ingredients from right here in Fauquier. FHS Senior Ella Crider, whose family owns both the store and truck said, "Everything is homemade straight from the farm. From there, the Smith family makes all the delicious recipe combinations." Their homemade style and locally sourced ingredients are what diversifies them from the local competition.
Effee's Frozen Favorites, in Warrenton, is a popular ice cream shop due to its long-standing history in Fauquier. This has made the shop synonymous with summer for locals. Sophomore Bella Schmidt described the shop as being strongly connected with fun summer nights eating ice cream and spending time with friends and family. This idea is one that resonates with many locals who have lived in and around Warrenton for years.
Each of these restaurants has something special to offer its customers. Whether it's a warm and inviting atmosphere, great memories associated with the location, a homemade style with locally sourced ingredients, or a combination of these factors, Carousel, Moothru, and Effee's Frozen Favorites are all highly regarded for their unique qualities, great vibes and consistently sweet treats.
View Comments (2)
About the Writer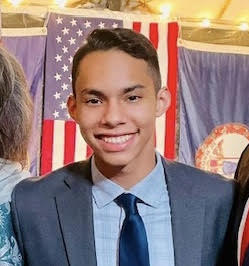 Angel Alvarado, Staff
Hi! My name is Angel Alvarado and I am a senior at FHS. This is my first year taking journalism. I used to wrestle and play soccer. I like to read, listen...