Bryan Grimley is Awarded FHS Teacher of the Year
After many countless hours of hard work and dedication, Bryan Grimley was awarded 2021 Fauquier High School Teacher of the Year. Coach Grimley, as he is known by the players and students, teaches athletic training to the students during the school day as well as attending to athletes of all sports once the school day is over.
Coach Grimley accidently found out about his honor a few days prior saying, "It's a small town. Secrets are hard to keep!" What is not a secret, however, is Grimley's impact on his coworkers and students. Throughout the school year the only thing constant about his schedule is that he will always find himself busy.
Coach Grimley typically arrives at FHS around 8:30 after dropping his son off at school. On weekdays where there are practices after school, Grimley typically leaves between 6 and 6:30 p.m. On game days for various athletic events, he usually is at the school attending athletes until 9-10 pm. Coach Grimley also mentions. "During the fall and winter there are usually 2-3 games per week. Sometimes more, sometimes less. During the spring it's usually 3-4 nights of games a week. Weather also usually backs things up. So it can be a lot of time away from home."
When asked about his initial reaction to winning the award Grimley said, "I was definitely shocked." He also credited his fellow workers by saying, "Every teacher here is deserving." This is a testament to the support of each other within the staff at FHS.
A key to Grimley's success has been his impact on each and every student he comes in contact with. "I want them to feel cared for, respected and loved all the time." said Grimley. His nonstop work ethic within the school keeps all student athletes ready to go. Grimley also played an important role during COVID-19 protocols. Grimley was very involved with contact tracing around the school, and this is another example of his great work ethic.
With many great teachers around the school, Grimley was able to stand out, always willing to go the extra mile to benefit the students and the athletes.
Leave a Comment
About the Writer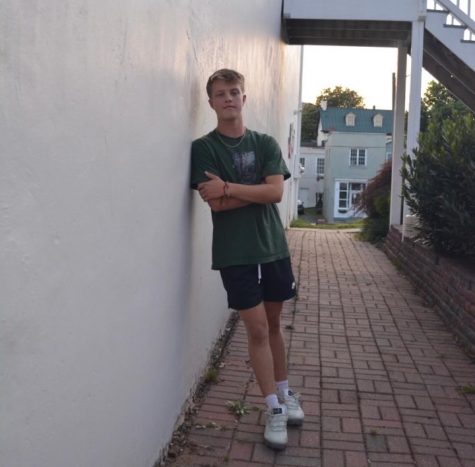 Nate Hensley, Staff
Hey everyone! My name is Nate Hensley. This is my first year as part of The Falconer staff. I am in Journalism one and a junior this year. I look forward...